Catalog software,
create your documents with ease
Are you looking for a smart and fast catalog software for creating your company's catalog or price list? Logically condensing many data into a single document is a process that takes considerable effort and requires structural and graphic design skills. You may have tried desktop applications that are difficult to use and with which you can create only very basic graphic layouts. Forget about it! The best solution for this job is Pagination.
What is Pagination product catalog software?
Pagination is a cloud product catalog software (SaaS) that allows you to create high-resolution print-ready documents (PDF, INDD, IDML) or web versions of these documents, using Adobe InDesign. Pagination uses your InDesign layout to ensure maximum design freedom. If you do not yet have a layout and you need a document quickly, you can choose from the dozens of free templates offered by Pagination, and easily edit them to meet your needs.
And what about the data?
Today, most of lists of information come from spreadsheets, databases, or other business applications, which keep growing and changing. Pagination cloud catalog software enables you to use any type of data files, including Excel, CSV, TXT, XML, and more. Additionally, not all the data need to be contained in a single file. You can easily combine several data files to create rich and sophisticated documents.
Providing users with the ability to manage information-intensive documents has made Pagination one of the most widely used catalog software packages in the world. Workflow can be greatly enhanced by using Pagination's features of automatic TOC, smart tables, dynamic fields, HTML tags, and much more.
The Pagination Team's know-how, with experience on hundreds of national and international projects, is what makes Pagination the best product catalog software currently available on the web–and it is cloud-based! No installation, plug-in, or specific training is required. Send your project files (the InDesign layout, the data file, and the images) to Pagination, and within about ten working days, you will be able to create your own documents 24/7. You just have to try it!
Catalog automation?
Publishing a product catalog or a price list is a challenging task that can put pressure on even the best marketing teams.
You can use Pagination cloud catalog software to automatically create beautiful documents in just a few seconds that are always ready for print or digital distribution.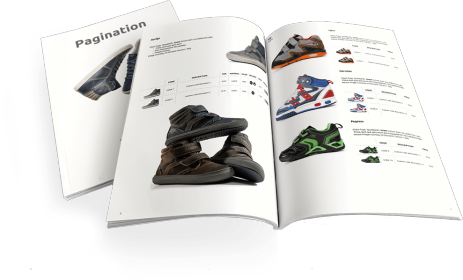 view more