A selection of real jewelry catalogs from different brands to inspire you
If you're looking for inspiration for the creation of your new jewelry catalog, or you just want to know how jewelry catalogs are made, here, you will find an ensemble of real documents in PDF format or flipbook mode. Each includes a brief description in which you'll find useful information such as the layouts used, product information displayed, types of photographs, and so on. If you need to create a ready-to-print, or web-ready catalog, or price list in no time and without errors, Pagination's cloud service can help you.
Easy to Read Jewelry Catalog
The Vincent Van Hees catalog has a portrait orientation. The document is probably handmade, but it could be easily automated. Products are showcased using cut-out pictures, and they have minimal information, such as each item's name, size, and dimensions. The catalog is composed of just a pair of layouts, so the document is quite easy to understand.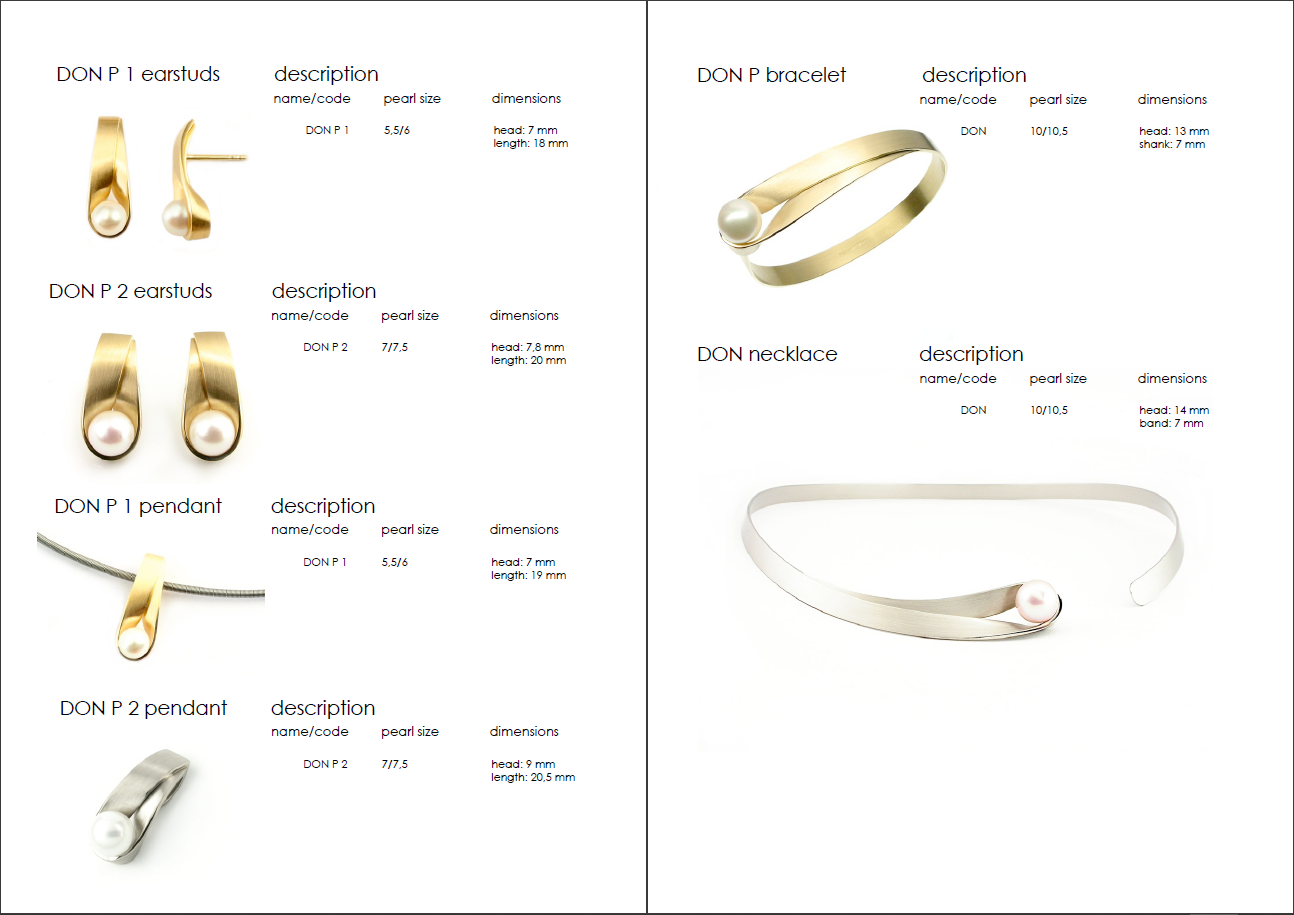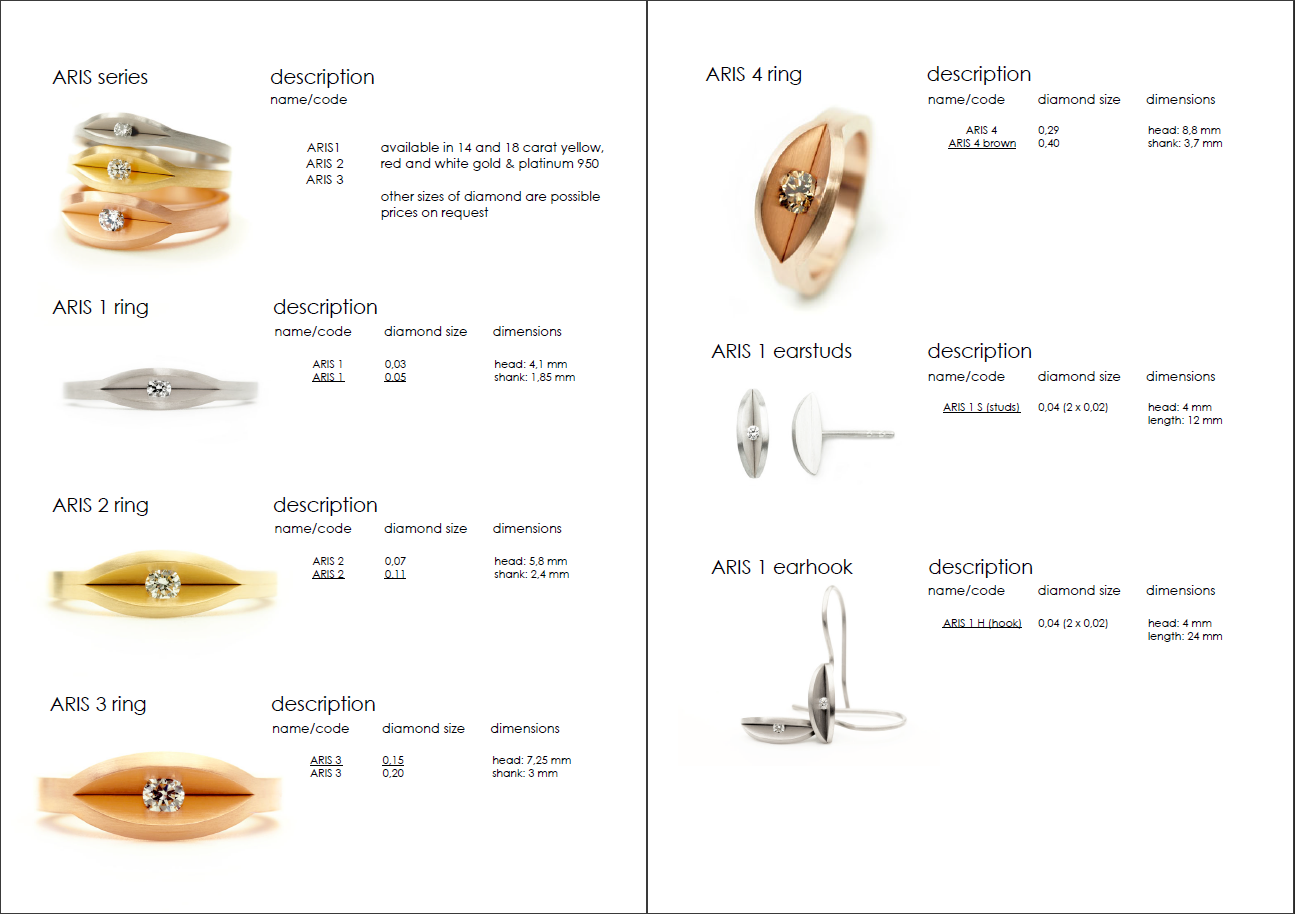 Simple Handmade Catalog
The Guess Winter 2017 Jewelry Dealer Catalogue is a well-structured handmade document. Products are mostly presented using cut-out pictures, while in-context images are used as chapter separators. The catalog is quite easy to read, even if the layout frequently changes. Below every product, readers can find its information, such as the SKU, product name, and barcode.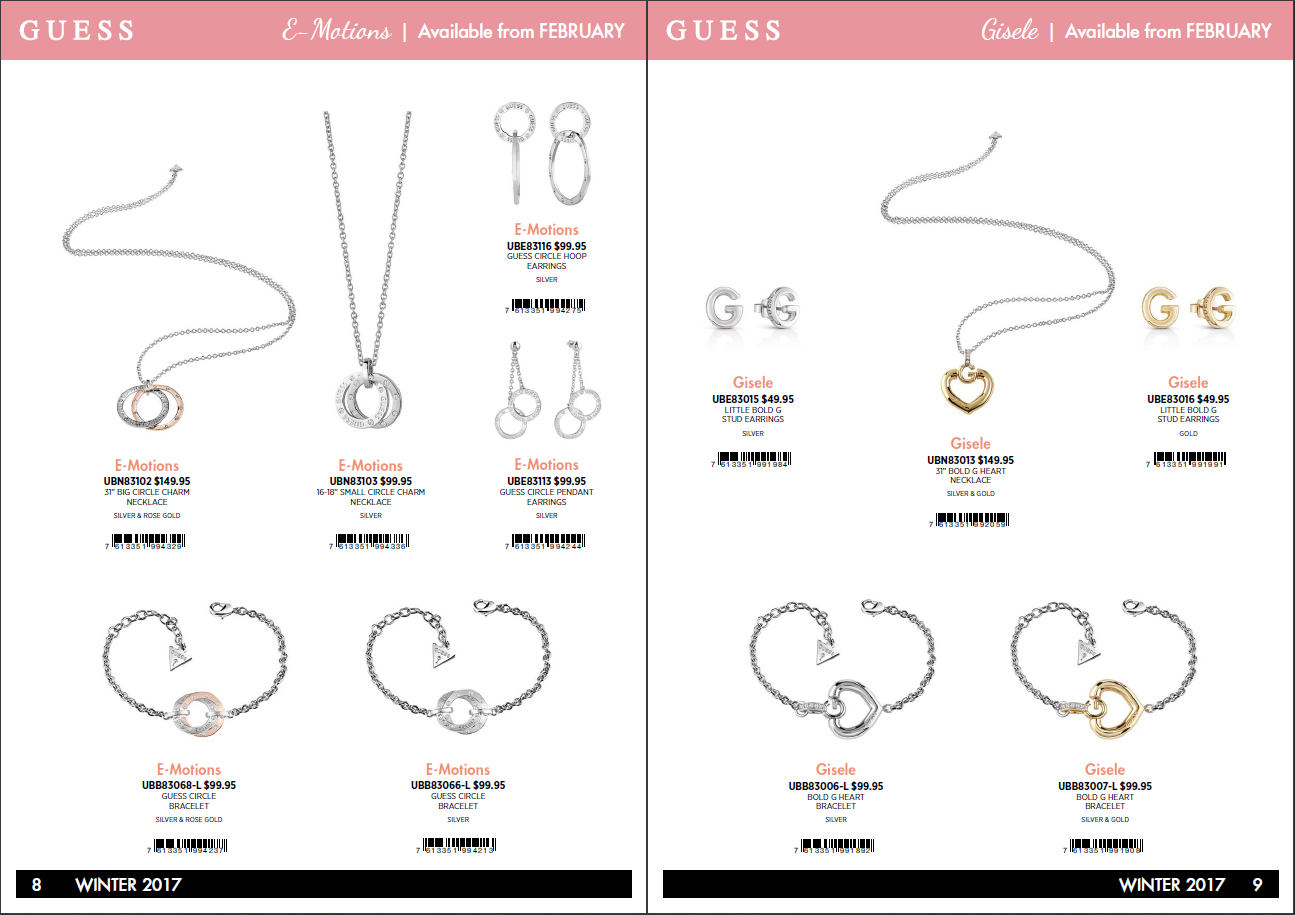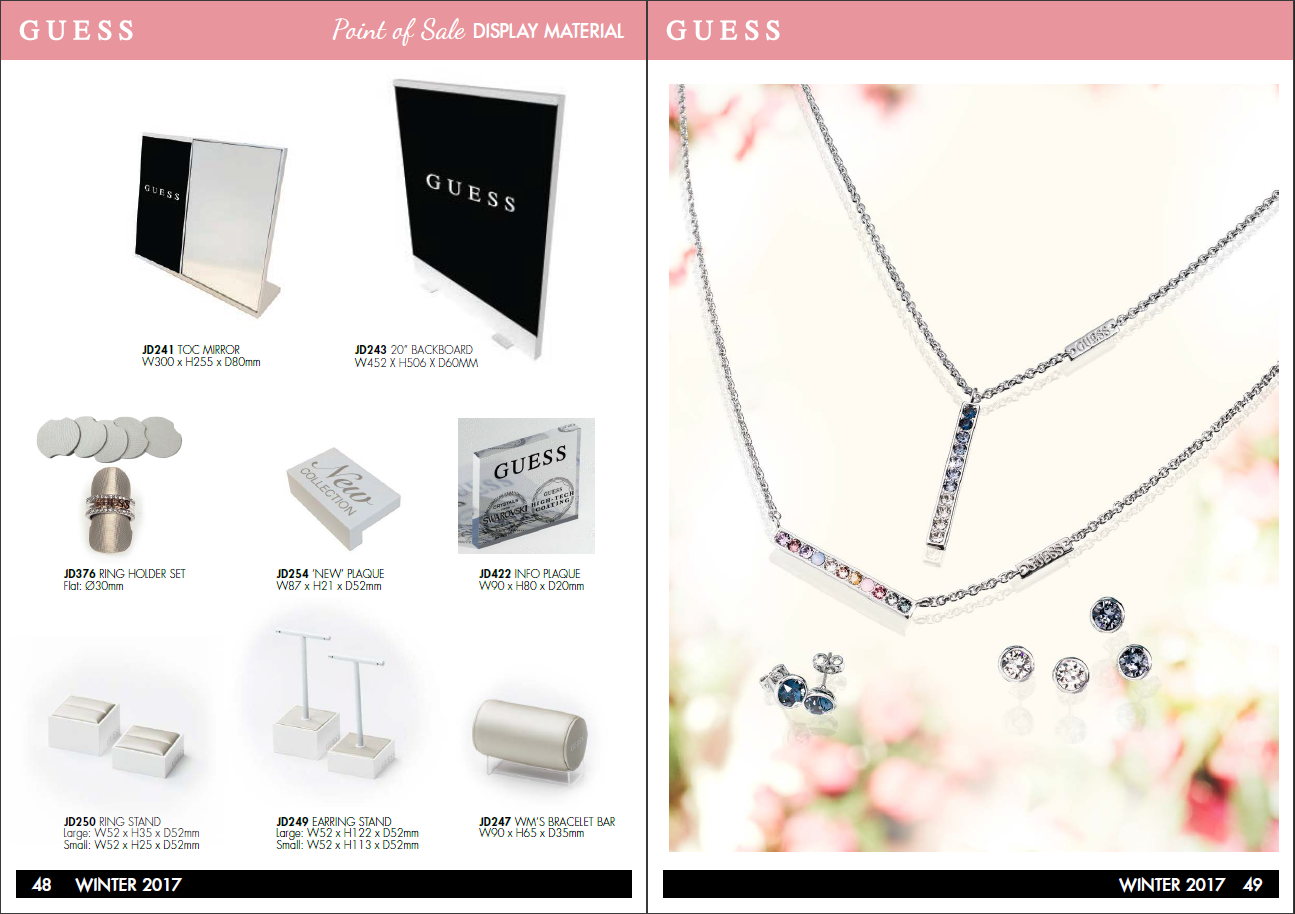 The Lord of the Rings
This rings catalog is composed of different similar layouts, and it has a landscape orientation. It is a well-structured document that is quite easy to understand. Products are presented as cut-out images, and every ring includes all the necessary information. At the top of each page, you'll find the chapter name and the cover includes a table of contents.


Interactive Jewels Catalog
The interactive holiday catalog by Michaels Jewelers is probably a handmade document. It is tidy and easy to read. There's minimal product information featured at the end of every page. The rings are mostly presented using cut-out images. The document has no index or table of contents, but this is not a big problem, because the catalog doesn't have many pages.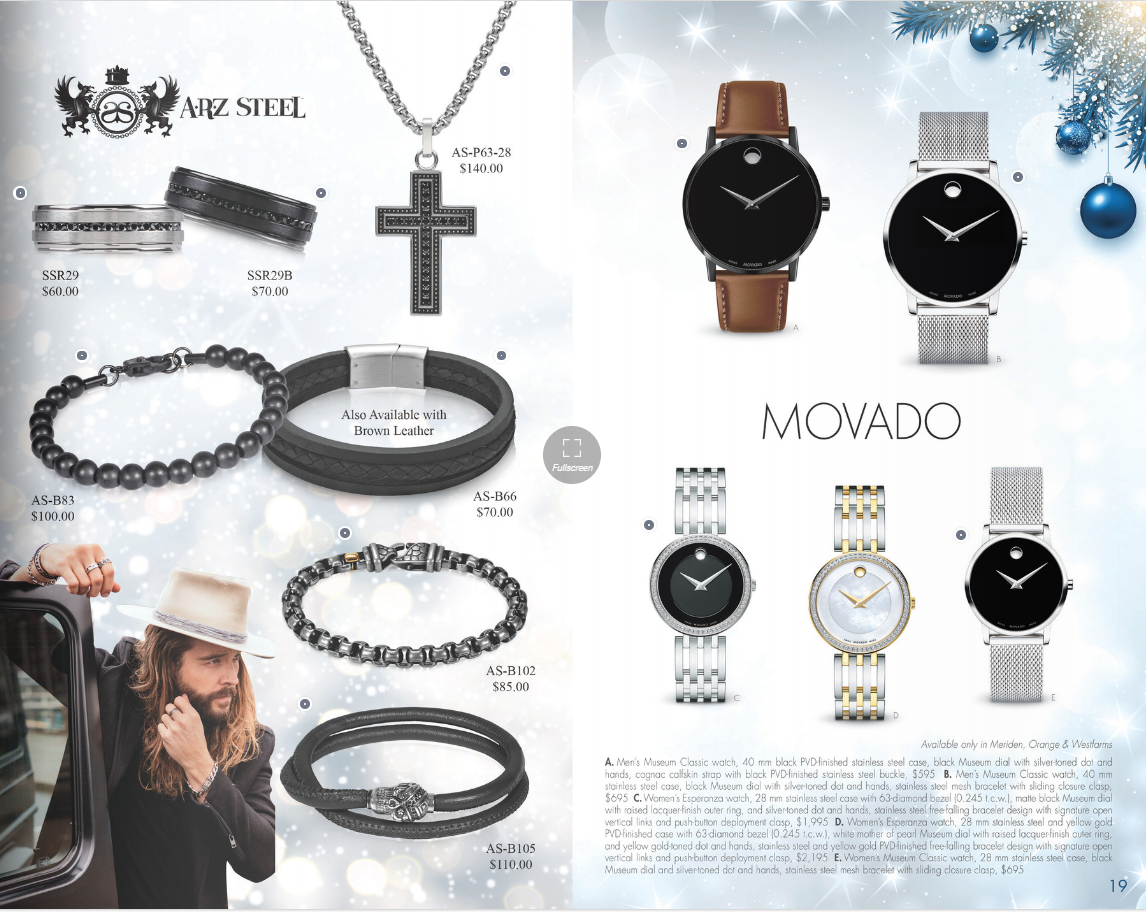 Practical Jewels Catalog
The 2016 Doyle catalog is composed of a couple of layouts and it has probably been generated automatically. Every product includes a short description and a price. Overall, the document is well structured, and it is very clear. At the end of the catalog, readers will find an index and a useful directory.


Elegant Jewels Lookbook
The multi-language catalog by Marco Bicego is more reminiscent of a lookbook than a standard catalog. The whole document is composed of full-page, in-context pictures and chapter separators. There is no product information given, apart from the product's name in the chapter separators. This elegant lookbook is provided with an index on its last pages.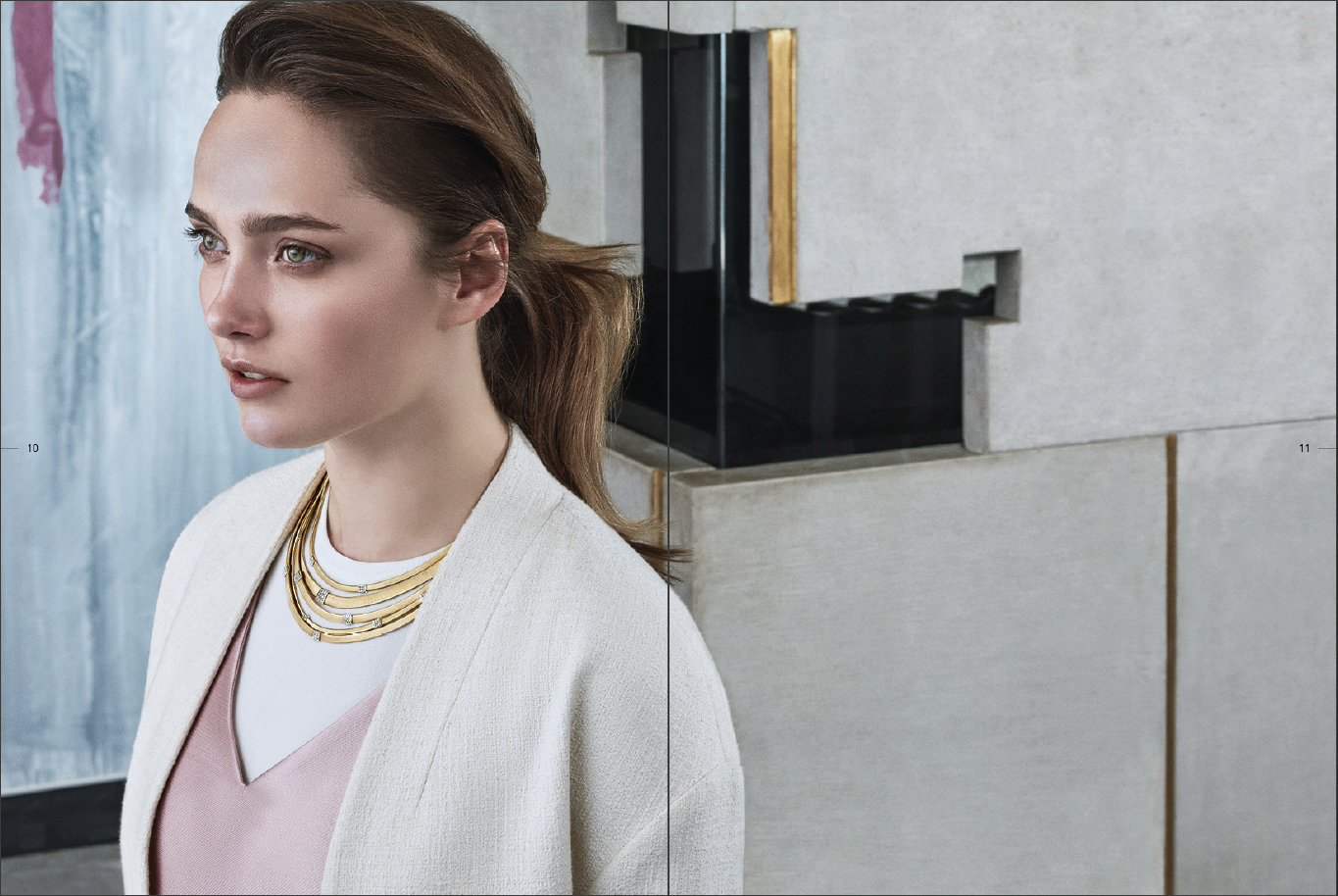 The Right Balance between In-Context and Cut-Out Images
This interactive catalog by Park Lane represents the perfect mix of in-context and cut-out images; in fact, products are presented using both styles. The document is well structured and composed of different layouts. There are no chapter separators, but the beginning includes a table of contents, and the end has an index.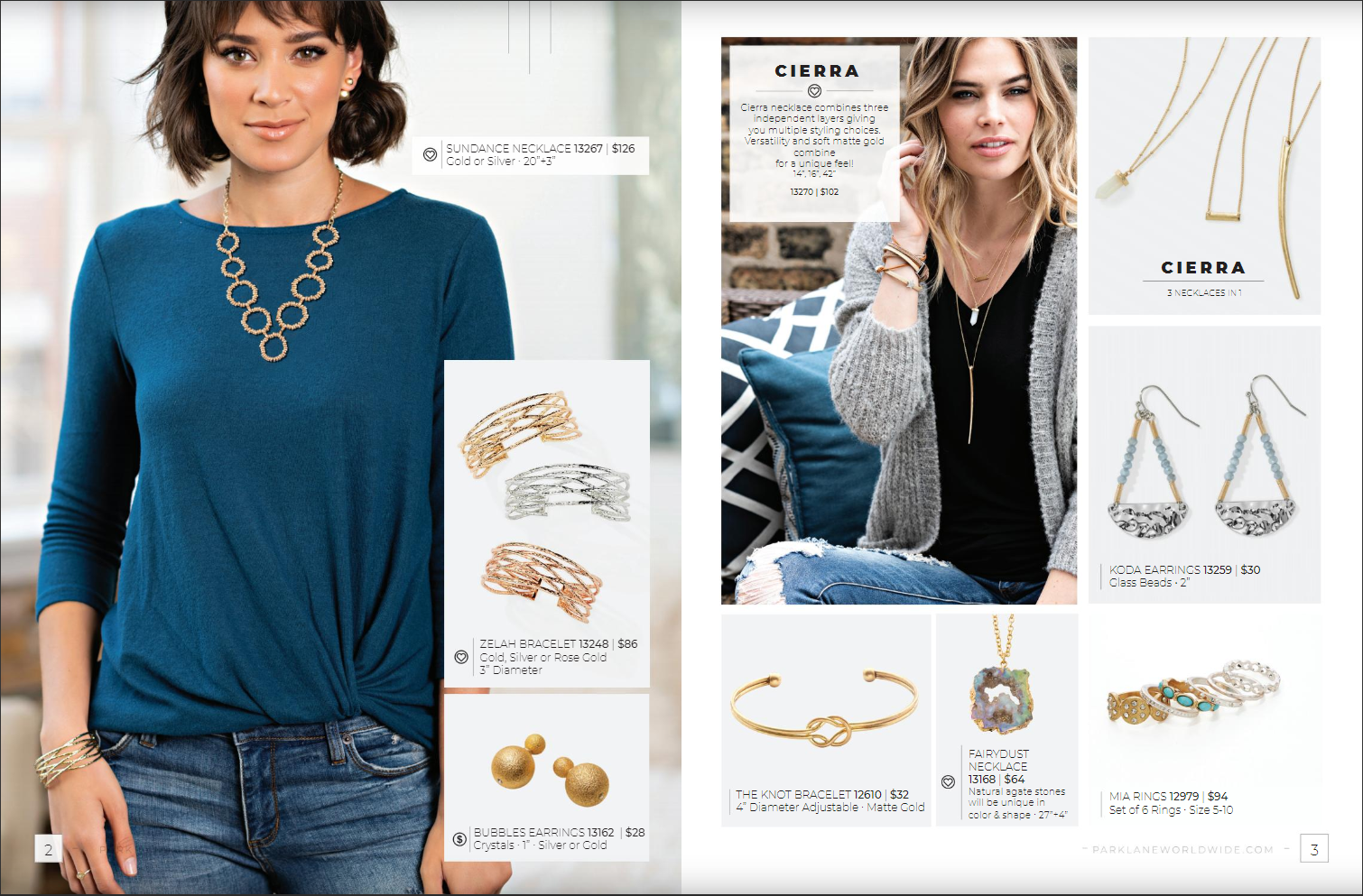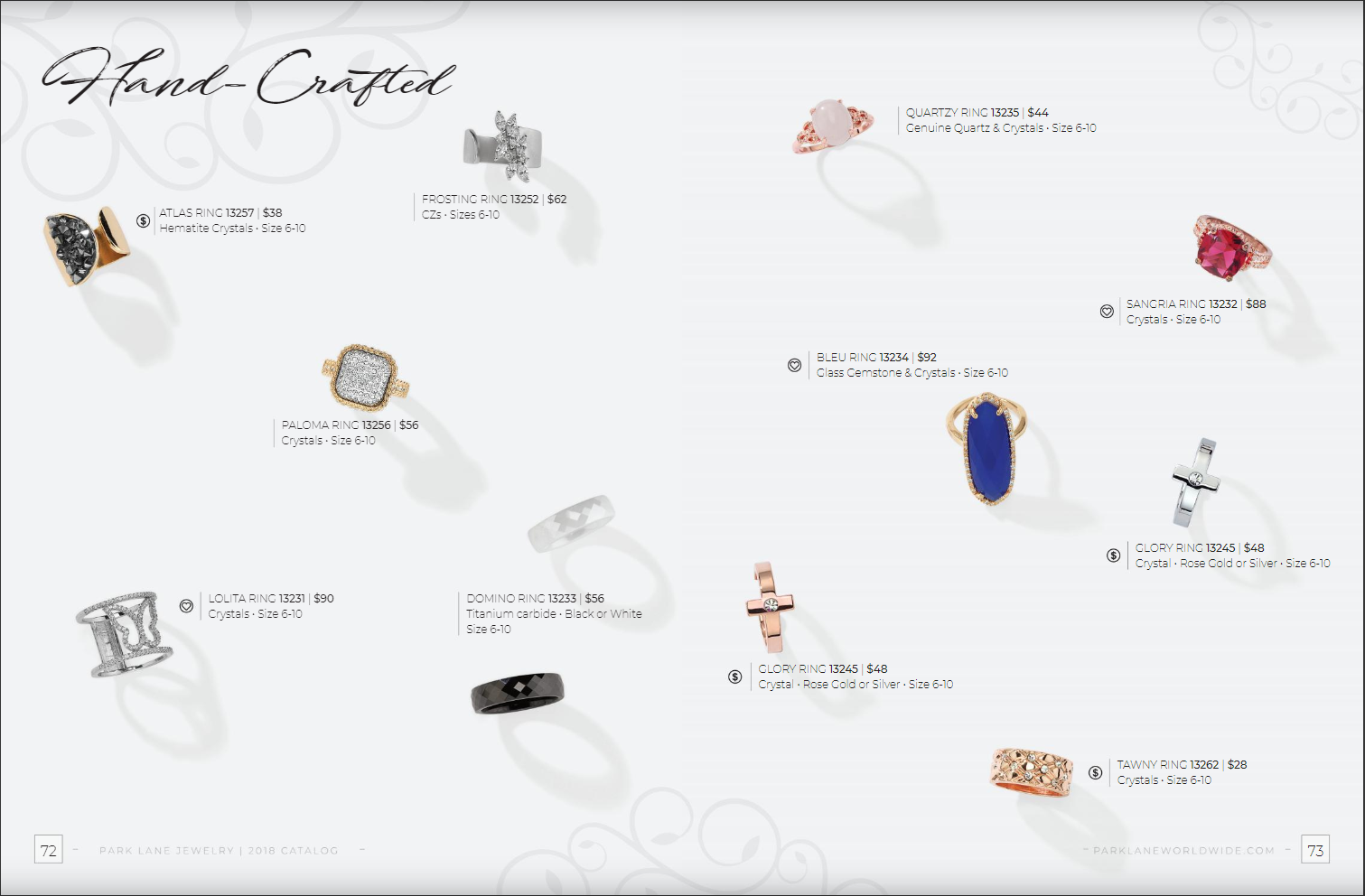 Chaotic and Colorful Jewellery Catalog
This product catalog by Ross Simons has a portrait orientation and is clearly handmade. There are a lot of different layouts, and the products are displayed in no specific order. The resulting document is a bit chaotic. There is neither an index nor chapter separators, and there are many different colors throughout the catalog. Each product has its price and other information displayed near the relative picture.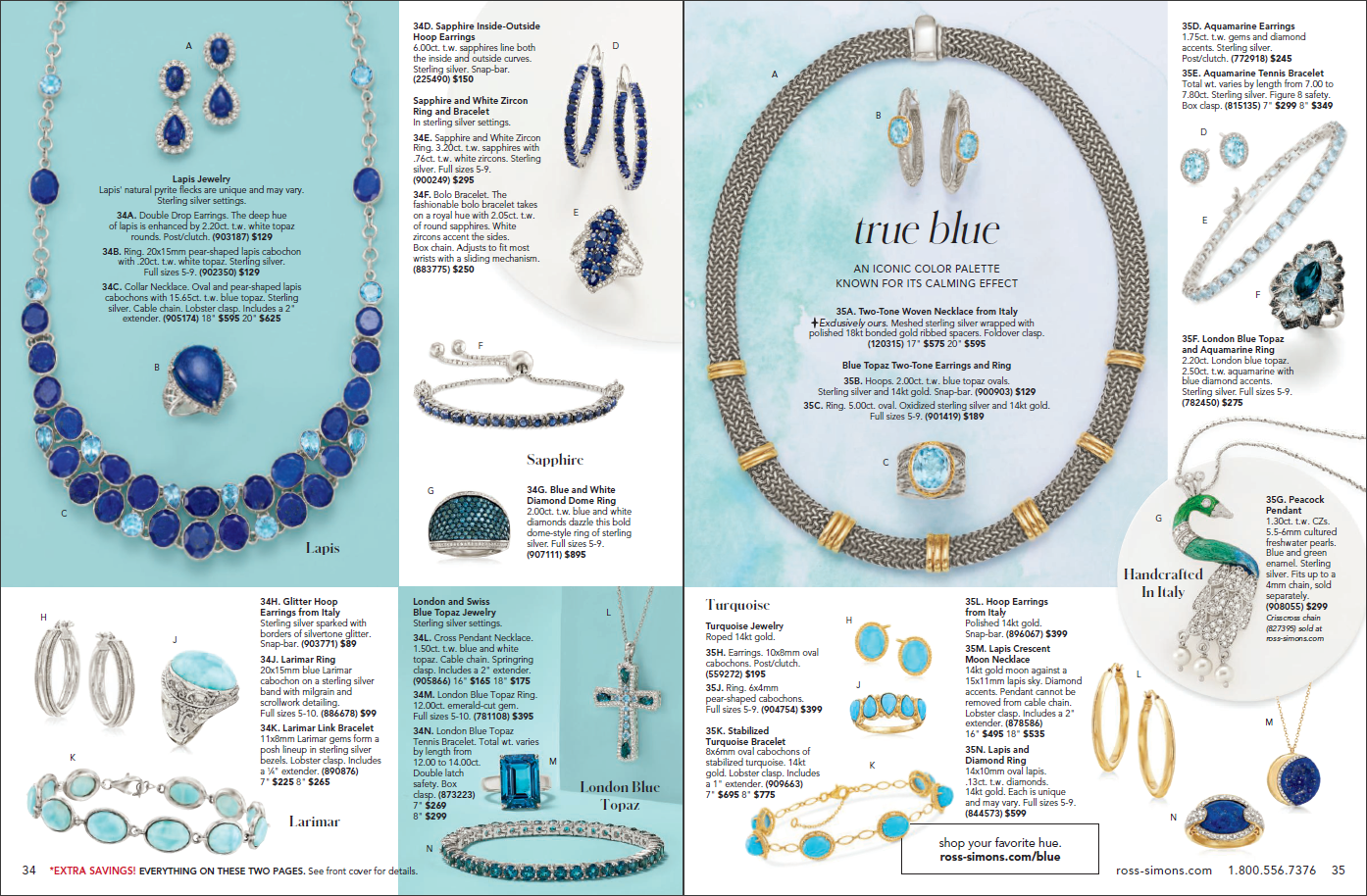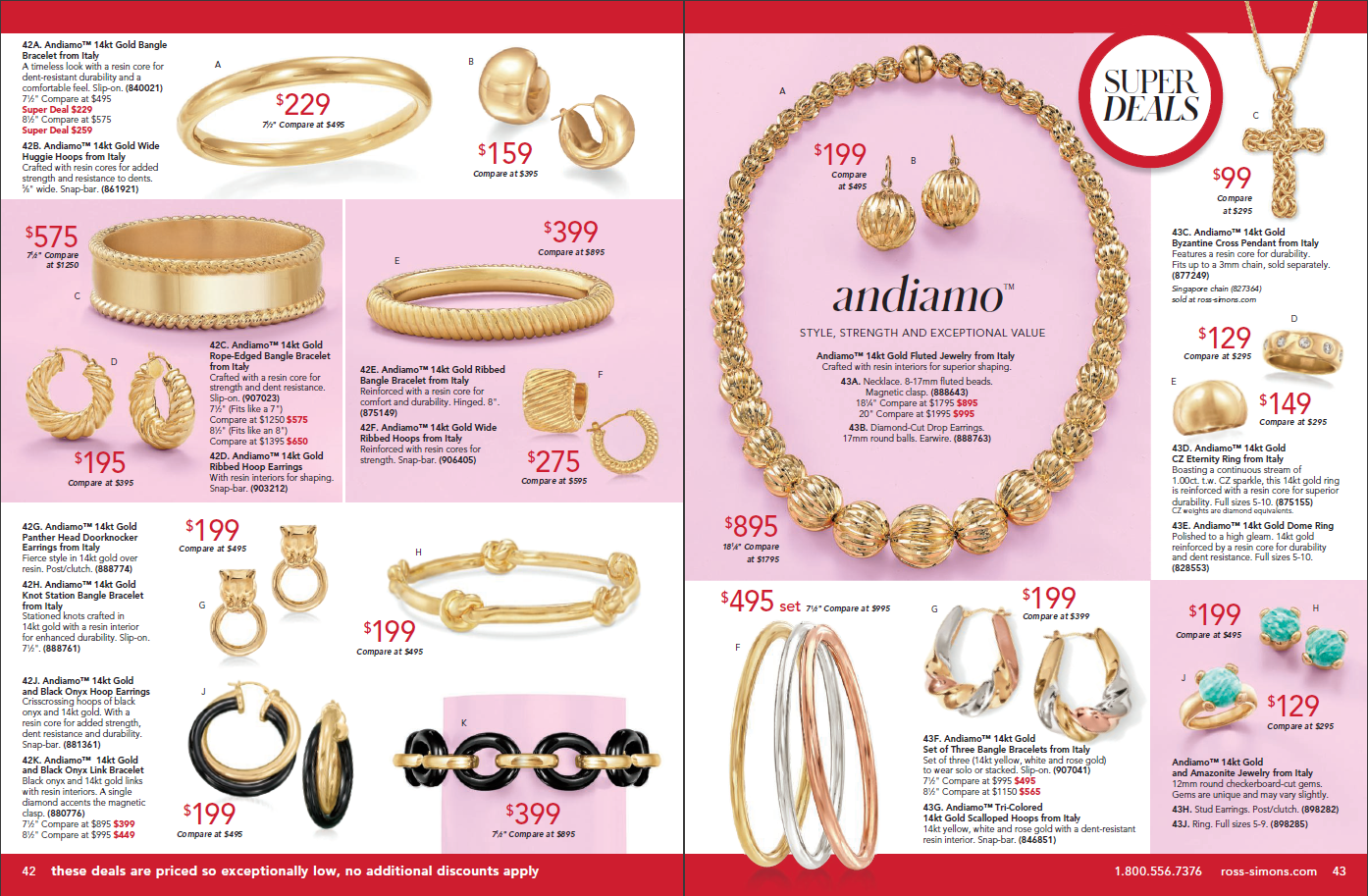 Minimal and Elegant Lookbook
Bulgari proposes an elegant lookbook with a landscape orientation. The document has a minimalist layout that results in an elegant document. The products are represented by cut-out images, and the only information given is each product's name. To make the document more varied, there are also in-context images and, even if they're not really necessary, chapter separators.

Colorful Jewels Lookbook
This colorful document by Tiffany has both a landscape and a portrait orientation, and it is a typical handmade document. It is a colorful lookbook comprising a mix of in-context and cut-out images. No product information or index is provided, only chapter separators that give a minimalist structure to the whole document.