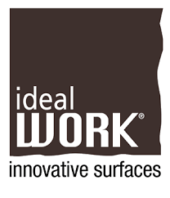 The right solution for our company
Ideal Work is a leading Italian company in flooring, hard landscaping and decoratively stamped concrete. Since 1997, its mission has been to create innovative and high-quality products. These features have made Ideal Work a benchmark in the European market.
We interviewed Giovanni Fonte Basso, the marketing manager at Ideal Work, who chose Pagination to create the company's catalogs.
"Before using Pagination, we worked with a graphic agency, but we needed a new solution. We needed to create our catalogs by taking the data directly from our database, without any transformation or intermediate step. We found the right solution for us in Pagination.
"The feature that impressed us the most was the automation. This service makes it possible to automatically create ready-to-print and ready-to-publish documents. And the process takes just a few seconds."
Pagination is a cloud-based database publishing service that can automatically create catalogs and price lists from the company database. And everything is customizable. You can choose the graphic layout you prefer.
Ideal Work also likes Pagination's ease of use and excellent customer service. Giovanni says, "I found the Pagination interface easy to use. I'm still in contact with the team to keep the project up-to-date."
Mit diesem Service lassen sich druckreife und veröffentlichungsreife Dokumente automatisch erstellen. Dieser Vorgang dauert nur wenige Sekunden.
Erstellen Sie Ihr automatisches Dokument