In today's fast-paced digital landscape, where businesses are competing for the attention of their target audiences, advertising takes on a pivotal role. Banner ads, as visually striking elements, hold the responsibility of promoting products, services, and brands across diverse online platforms. However, the process of crafting and refining banner ads often consumes significant time and resources for marketers and designers.
Offering a remedy to this challenge is Pagination, with a solution for an automatic banner maker, designed to automate this intricate process. By harnessing the capabilities of automated generation, marketers can now unlock a realm of possibilities, channeling their creative potential while amplifying the impact of their advertising endeavors.
Streamlining the Creation of Banner Ads for Match Games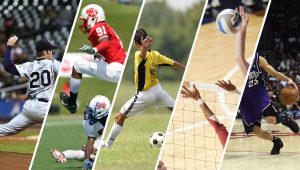 In the dynamic universe of sports, effective promotion of match games stands as a cornerstone for attracting enthusiasts, nurturing engagement, and optimizing ticket sales.
A brand dedicated to promoting match games sought the expertise of Pagination to streamline its operations. On one hand, they recognized the need for engaging and eye-catching banners to capture the attention of their target audience. On the other hand, the manual creation of banners in various sizes, such as leaderboard, medium rectangle, and mobile-friendly formats, proved to be a time-consuming and resource-intensive endeavor for their marketing and design teams. With each match requiring unique banners, their productivity suffered, limiting their ability to focus on other crucial aspects of event promotion.
With Pagination they are able to overcome this challenge, the brand embraced the power of automated banner ads generation. This innovative solution enabled the brand to expedite the design process, streamline workflow, and ensure consistency across all ad banners.
Despite the automation, the brand retains creative control. They can tailor banners to reflect the uniqueness of each match, incorporating specific themes, images, or promotional offers, while adhering to the standard design templates.
A Step-by-Step Guide
Leveraging the capabilities of Pagination to transform banner ad creation into a game-changer is a straightforward process. Here is a guide to effectively navigating this transformation. But before diving into the steps, there are two key inputs you'll need to automate this process:
InDesign Template

, where each page represents a specific banner size. This template will serve as the foundation for the ad banners.



Data File

containing all the match information, including team names, match dates, and times. It is possible to include the file names of the images to import. This file will be used to populate the ad banners with the correct data.
Step 1: Linking the InDesign Template and Data File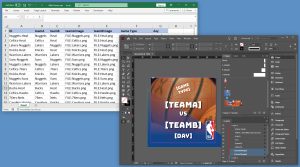 The InDesign template needs to contain the necessary placeholders or "tags" to reference the data of the input data file. These tags will act as placeholders for the dynamic content that will be inserted automatically.
Step 2: Generating  Banner Ads
The generation process can be triggered in the Pagination app by uploading the data file and Indesign template. Pagination will leverage the template and data to populate the banner ads with the correct text and images for each match, in all the specified banner sizes.
Step 3: Reviewing and Using the Exported Banners
The output will include folders representing each match, each containing ad banners in PNG format, designed using the template. These files are available to be downloaded and reviewed.
Conclusion
By embracing automated banner ads generation, this brand experienced a significant transformation in its match game advertising efforts. They were able to save valuable time and resources, streamline their workflow, and ensure consistent and visually captivating banners across various platforms.
The adoption of this innovative solution empowered their marketing and design teams to focus on strategic initiatives, audience targeting, and enhancing the overall fan experience. With automation driving their banner ads creation process, our client elevated their promotional endeavors, establishing a stronger brand presence and driving greater engagement for their match games.