Features

PDF & InDesign
Create documents that are ready to print or send digitally in a matter of minutes!

Custom layout
Streamline your own design, without additional plugins or training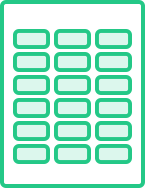 Data Integration
Data from any source: fully automated workflow from your business apps
Software for beautiful catalogs and price lists
Pagination enables customers to create up-to-date, high-quality sales documents in moments. Each project can be tailored to your unique requirements, faithfully respecting your communication guidelines. Exported files are always available in two formats: the high-quality, ready-to-print document and the lightweight version for agile web publishing.
See how Pagination is being used
Suited for your business
We have completed thousands of projects, gaining expertise in the automotive, distribution, fashion, furniture, and manufacturing industries, amongst others. We have also teamed up with creative agencies, helping them to offer their customers exactly what they need.
Cloud Pagination
A cloud database publishing solution has many advantages over other methods. More precise documents can be created and updated far more quickly than traditional, manual editing allows. When compared with on-premise systems, the cloud system offers a faster setup time, greater ease of use, easier collaboration, and better scalability.
On the simplicity front, Pagination enables you to save costs in terms of training and hardware, as well as with software licensing, maintenance, and updating.
Testimonials
Pagination has been a wonderful purchase. It's improved the quality of our work and has had a very positive impact on our bottom line - in terms of money, manpower, and time.
Pagination relieves me of boring tasks, reduces errors, and improves quality and lead times.
One of the biggest pros of Pagination is surely the speed – after the data is uploaded together with the layout requirements, the PDF file is ready in 40 seconds.
This service makes it possible to create ready-to-print and ready-to-publish documents automatically. And the whole process takes just a few seconds!
With Pagination, we save time and money, while maintaining our creative autonomy.
Create your automated document!