What Exactly Is A Catalog Creator?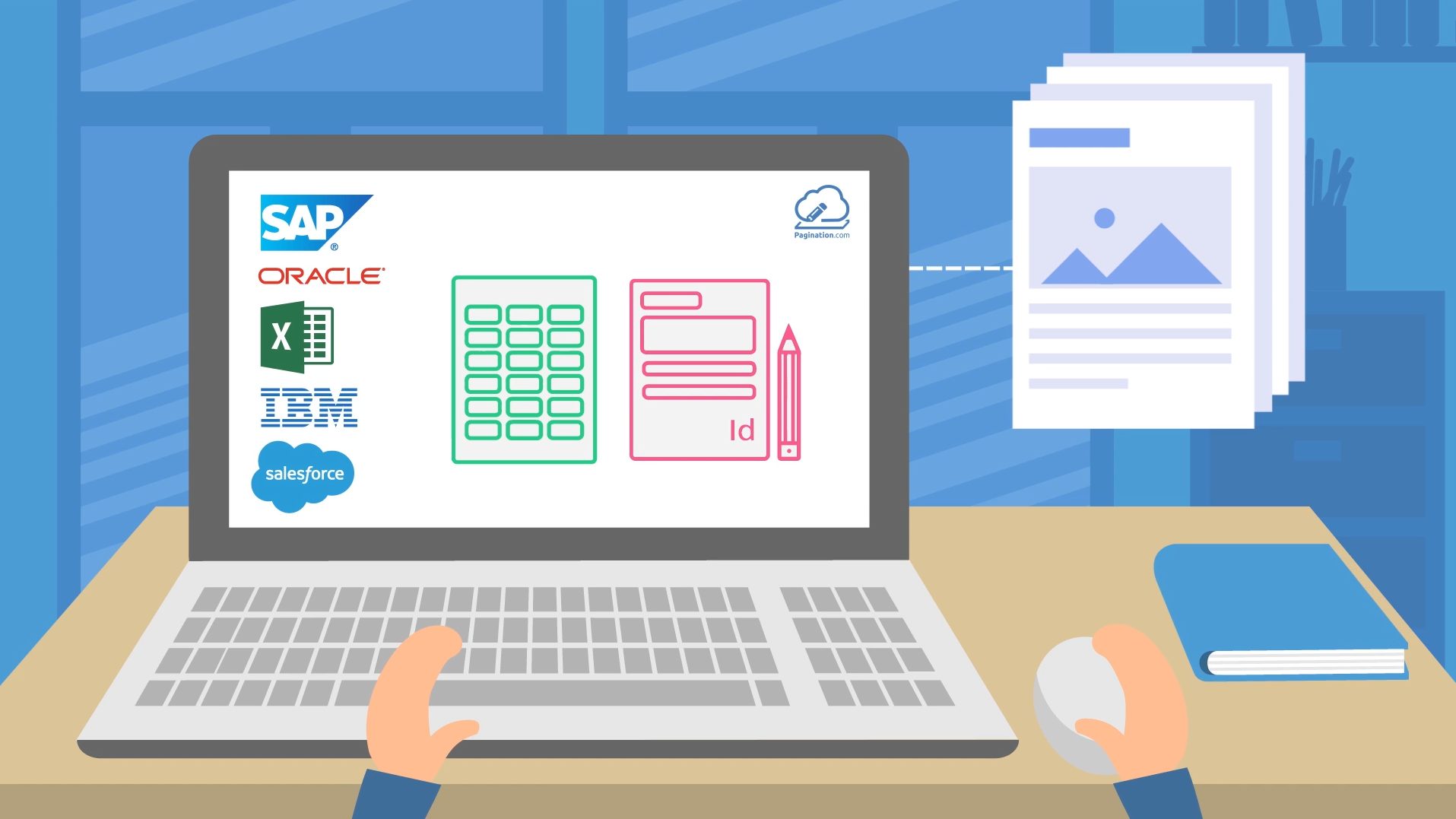 You're here because you're in a hurry to craft a catalog. No matter your expertise level – whether you're a graphic designer or not – if you're seeking an efficient tool to design a top-notch catalog swiftly, you've landed on the right page.
Our goal on this page is to demystify the realm of catalog creators, starting with defining what they are and elucidating their numerous benefits. We'll then delve into the various types of services they offer and highlight the most popular software in the field.
Table of Contents
What Exactly Is A Catalog Creator?
A Catalog Creator is essentially software designed for catalog construction. But what kind of catalog are we referencing? An online catalog, like a PDF or flipbook? Or a physical print? Does the software operate online or does it need local installation? Does it solely generate PDFs, or can it output in formats like InDesign? Is it tailored for graphic designers, or is it user-friendly for all?
The reality is that there's a diverse range of catalog creators available, each catering to distinct requirements. Some catalog creators let you mold a pre-existing template to fit your specifications, offering in-browser editing tools for ease. Others convert PDFs into interactive digital catalogs, popularly termed "flipbooks". Then there are those streamlined online platforms that enable you to quickly produce web-ready PDFs and print materials, along with editable InDesign files, by simply uploading your content to their integrated application.
What Kinds of Catalog Creators Exist and What Benefits Do They Offer?
We've identified three primary categories of catalog creators:
Software for Browsable Digital Catalogs (Flipbooks)


These tools convert catalogs into interactive digital versions, enhancing the user experience with engaging, flip-through browsing.

Online Graphic Design Platforms
These are comprehensive, user-friendly platforms that offer various tools and templates to facilitate the design process, ideal for both professionals and novices. Additionally, they often include web designing tools that make it easy to create stunning online visuals.
Data-driven Catalog Makers
These fast and user-friendly services are designed for generating catalogs in specific formats:

High-resolution PDFs

featuring quality images, bleeds, and color profiles, tailored for print.

Web-optimized PDF

s, lightweight and equipped with navigable TOCs, external links, etc., ready for online use or conversion into flipbooks.

InDesign format catalogs

, providing users the flexibility to easily edit and customize the document as if crafted by a professional graphic designer.
Each type of catalog creator serves distinct needs and offers unique advantages. Users can choose based on their specific requirements, whether it's for an engaging digital browsing experience, a versatile design platform, or quick and precise catalog creation in various adaptable formats.
From Data to Catalog (PDF and InDesign format): Unleashing Efficiency
This type of Catalog Creator emerges as a game-changer, championing efficiency and quality in equal measure. It stands out by effortlessly converting data from spreadsheets or management systems into polished, ready-to-publish InDesign files or PDFs. The beauty of this process lies in its simplicity and the elimination of the need for professional graphic designers.
Here's how it unfolds: users enter the application and are greeted with an intuitive interface. The next steps are straightforward—upload your data files, and within a few moments, voila, a professionally crafted catalog is ready, akin to those developed by seasoned designers or established agencies.
But let's delve deeper into the intricacies and the magic behind this transformative process.
These Catalog Creators are designed with advanced algorithms and user-friendly interfaces. They're equipped to handle complex data inputs, rendering them into aesthetically pleasing and information-rich catalogs. Users can customize templates or even create designs from scratch, integrating data seamlessly to produce artifacts ready for print or digital dissemination.
The ability to transform raw data into professional catalogs not only accelerates the production process but also democratizes it. Now, businesses of all sizes and individuals with varying levels of design expertise can create high-quality, customized catalogs that speak to their brand's essence and communicate effectively with their target audience.
In a world where time is at a premium and efficiency is king, these Catalog Creators are not just tools; they are allies in effective communication, brand expression, and streamlined operational workflows. Each PDF or InDesign file created is a testament to a blend of technology and art, marking a significant stride in the evolution of catalog creation.
Pagination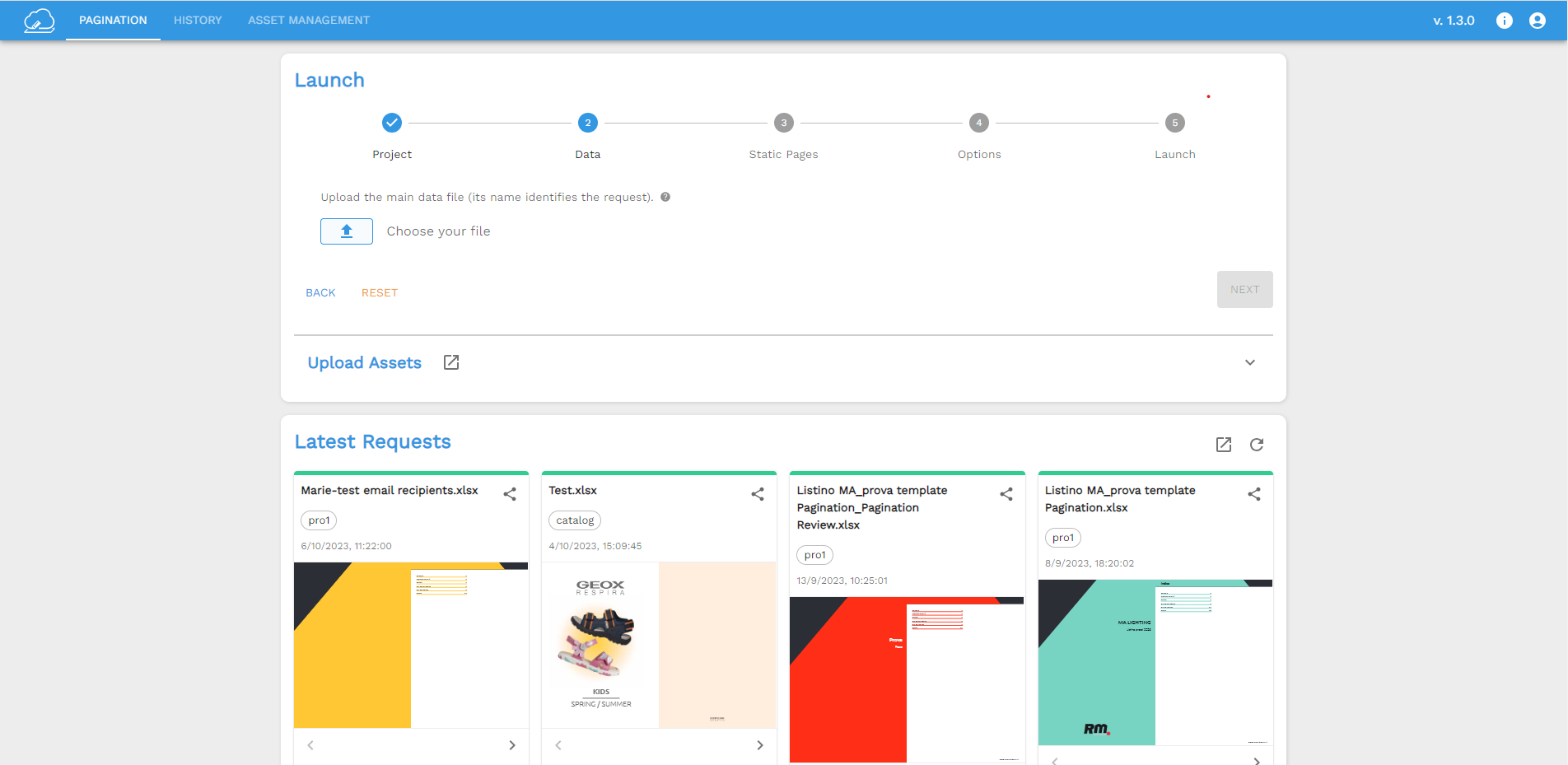 Beginning with Pagination, this online platform is adept at automating the personalized creation of catalogs in both InDesign and PDF formats. Utilizing Pagination ensures users can:
Design Custom Templates in InDesign

: Users have the liberty to design various product layouts, having complete autonomy over fonts, colors, table designs, image placements, and other elements.

Data Importation

: Users can import data files in formats like Excel, CSV, JSON, XML, and TXT. These files can be manually managed spreadsheets or exports from tools housing product information, including PIM, e-commerce, ERP, and PXM systems.

Image Importation

: Pagination accommodates direct image uploads (supporting JPG, TIFF, PSD, etc.) or the importation of images through public links.

ERP, PIM, E-Commerce, and CMS Integration

: The service is designed for seamless scalability, allowing for easy integrations with various platforms such as ERP, PIM, E-Commerce, and CMS. This ensures a fluid and automated workflow across different digital ecosystems.
To get started with the service, forward your project files to Pagination. In about 10-15 days, the Pagination team will set up a 24/7 online platform for you. This platform lets you create your catalogs whenever you desire, crafting them quickly and ensuring they're fully assembled, including:
Cover
Introductory Pages
Table of Contents
Chapter Separators
Product Pages
Advertising Pages (ADV)
Analytical Index:
Numerical Index
Terms & Conditions
End Pages
Back Cover
With Pagination, users can construct comprehensive and professional catalogs, each meticulously curated to detail, ensuring both aesthetic appeal and functional utility.
USER INTERFACE: SIMPLE AND INTUITIVE
The user-friendly interface is organized into three main tabs:
Pagination, which has two key segments:
Launch

: This is the central component of the service. Here, users can:

Choose their specific project
Upload data files and images (if not done earlier)
Set various preferences such as:

Language
Currency
Cover and back cover designs
Option for a version with or without displayed prices
Chosen color for the document
And several other settingsIt's vital to note that all these options are customizable to align with your project's unique requirements. After configuring your preferences, you just hit the "Launch" button, and within minutes, your catalog will be ready in both InDesign and PDF formats.
Latest Requests

: This segment displays the most recent four documents that were generated.
History: Within this tab, you can review all the catalogs or publications you've created. Furthermore, you can streamline your search by filtering through:
Specified date ranges
Project types
Specific publication names
Asset Management: This section is dedicated to showcasing the uploaded assets, organized by categories like images, icons, covers, back covers, and more.
THE POWER OF PAGINATION: QUICK, CONSISTENT, AND PROFESSIONAL CATALOGS
The standout feature of Pagination is undeniably its capacity to rapidly generate professional-quality catalogs suitable for both web and print. When crafted with InDesign, these catalogs mirror the precision and expertise similar to what a manual graphic designer might produce. But is there any discernible difference?
Rather than terming them differences, I'd say there are distinct advantages:
Speed of Creation

: Catalogs materialize in mere minutes, sidestepping the typical hours, days, or even months of manual labor.

Accessibility and Ease

: Regardless of one's graphic design proficiency, any team member can update the catalog. No specialized skills required.

Precision and Accuracy

: With data sourced from databases, often linked to management systems, errors are virtually non-existent. This automation ensures pinpoint accuracy.

Minimized Revisions

: The absence of mistakes eliminates the need for time-consuming revisions.

Design Consistency

: The automated nature of the process means catalogs maintain a cohesive design aesthetic throughout, even when employing diverse layouts tailored to specific products. This consistency results in a catalog that's visually appealing and user-friendly.
However, those considering an automated catalog creator should note a few things. While the primary goals are to enhance efficiency and cost-effectiveness, the design might lack the intricacies of a handcrafted piece. This isn't to say the design will be any less professional, but individual pages might not boast the unique flares a manual designer could introduce. Additionally, there could be occasional white spaces, but these are easily addressed manually in the auto-generated InDesign file by Pagination.
In summary, Pagination offers a balanced blend of speed, consistency, and professionalism, ideal for those prioritizing time and cost efficiencies without compromising on quality.
Digital Catalogs: Dive into Flipbooks in HTML Format
In the vast realm of catalog creators, a significant portion of users often envisions a specific kind of tool: one that metamorphoses their static PDF catalog into a vibrant, interactive digital version. Such a digital rendition, easily accessible and browsed via any standard web browser, is colloquially termed as a 'flipbook'. Judging from the trends and searches, the flipbook style of catalog creators seems to dominate the preferences of online users.
Recognizing its burgeoning popularity, and to help users navigate through the plethora of options available, we decided to embark on a comprehensive analysis of the industry's leading tools. While categorizing, it became evident that while several tools exhibit overlapping features, they each also have a unique value proposition that differentiates them. Thus, with a commitment to accuracy and clarity, we've sorted these tools into categories that most holistically represent their core functionalities. Let's dive deep and explore each category:
Flipbook: These are the quintessential digital avatars of traditional catalogs. Think of a physical book, but online – where you can 'flip' through pages with a click or a swipe.
From Data to PDF + Flipbook: This category signifies a two-step transformation process. These tools first interpret and convert raw data into a structured PDF. Subsequently, they breathe life into these PDFs, turning them into interactive flipbooks.
Online Database + Flipbook (PDF and HTML format): A fusion of functionalities, tools in this category seamlessly blend database management with flipbook creation. They offer a platform to organize and store product data, which can then be auto-magically transformed into both PDF and HTML flipbook formats.
In summary, the digital world offers a plethora of tools catering to diverse catalog creation needs. Whether you have a ready PDF or are starting from raw data, there's a suitable solution to transform your content into an engaging, digital flipbook.
Flipbooks
Issuu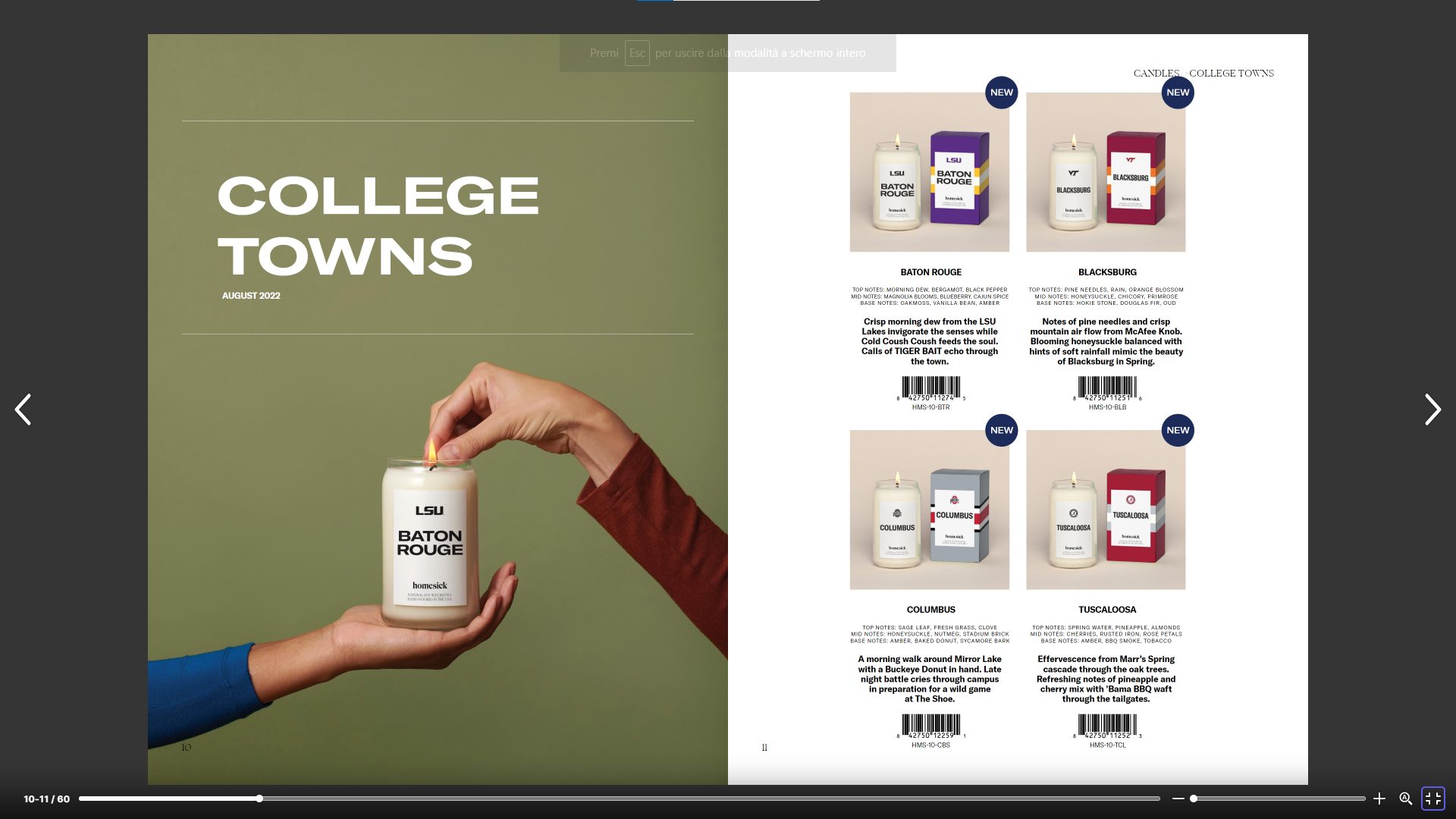 A pioneer in the digital flipbook industry, Issuu stands out as one of the most recognized names. Crafted for simplicity, it empowers users to easily transform static documents into dynamic, browsable ones.
By uploading files—whether they're PDFs, Word documents, PowerPoint presentations, Google Docs, or Google Slides—onto Issuu's platform, a browsable version of your content is instantly generated. Elevate the browsing experience further by embedding links, videos, and aligning the visual elements to your brand's aesthetic.
Issuu isn't just limited to content creation; it's designed for integration. Seamlessly connect with platforms like Google Drive, Dropbox, and Canva. The versatility doesn't stop there. Embed your digital flipbook on any website or share across any medium, broadening your reach.
Plus, Issuu's built-in Statistics tool offers valuable insights into your document's performance, enabling data-driven refinements for maximum impact.
FlipHTML5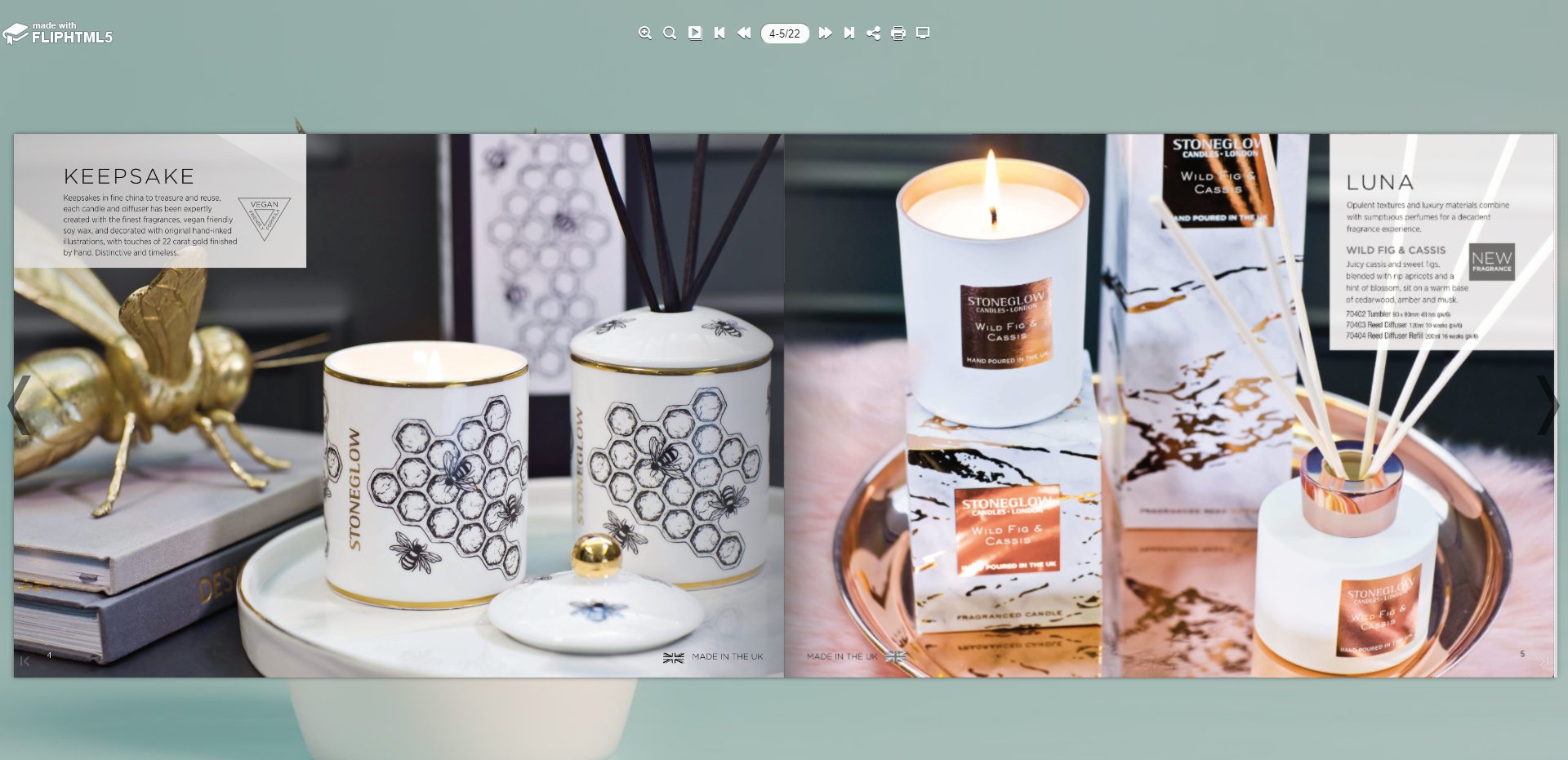 Stepping into the digital transformation world, FlipHTML5 emerges as a robust solution for converting PDFs into interactive digital catalogs.
Designed with user-friendliness in mind, this intuitive platform enables even the most novice users to craft and personalize their digital browsing experience. Boasting a plethora of preset parameters and layouts (visual references provided), it's a breeze to tailor your flipbook's display to mirror your unique graphic vision.
Dive into the customization suite and you'll find an array of tweakable elements, from the background image to the toolbar's hue. With FlipHTML5, static content comes alive, engaging viewers like never before.
FlippingBook
FlippingBook, a browser-centric digital flipbook solution, seamlessly transforms your content into captivating online PDFs in the modern HTML5 format.
Beyond just a visual transformation, it empowers creators to infuse interactivity into their content. Whether it's embedding videos, crafting custom links tied to specific text or images, or personalizing the overall aesthetic with tailored color palettes, FlippingBook ensures your content resonates.
Integrate FlippingBook into your workflow even further with connections to various apps via Zapier. Plus, brand reinforcement is just a click away with features like clickable logos and bespoke links.
But it's not just about content creation. FlippingBook's inbuilt analytics offers deep insights into how viewers engage with your content. Track metrics from total visitor counts, individual visit numbers, top-performing pages, to outbound click activity, and beyond. With FlippingBook, you're not just presenting content; you're understanding its impact.
iPaper
Dive into the realm of digital flipbooks with iPaper, a comprehensive online software packed with a suite of robust features. Not just another flipbook tool, iPaper elevates content by offering a vast array of design customizations, ensuring each publication is as unique as its creator.
Beyond just aesthetics, iPaper excels in enhancing the user's journey. Immerse your audience with a blend of vivid images, engaging videos, interactive slideshows, and clickable links. However, where iPaper truly distinguishes itself is its integrated shopping experience. Seamlessly incorporate carts, facilitate varied payment options, and establish both internal and external page linkages, transforming browsing into buying.
With iPaper, engagement doesn't stop at content consumption. Drive user action with strategically placed calls to action, entry gates, intuitive forms, and attention-grabbing pop-ups.
And for those keen on insights, iPaper's robust analytics section provides a detailed breakdown of user interactions, ensuring content strategies are data-driven. Plus, with its shareable and embeddable capabilities, iPaper guarantees your flipbook reaches the audience it's intended for, wherever they may be.
Online Template Design + Flipbook (PDF and HTML format)
Flipsnack
Flipsnack stands out as a robust platform tailored for crafting digital catalogs. What makes it distinct in this category is its dual capability: converting a PDF into an immersive digital catalog and designing a fresh online catalog using its integrated graphic tool, the Design Studio. Moreover, it provides the flexibility to adjust existing templates according to preferences.
Boasting traditional flipbook attributes, it offers a myriad of features like tailored graphic adjustments, integration of dynamic content such as videos, hyperlinks, and GIFs, hassle-free sharing options across social channels, through emails, or as an embedded feature on websites, and data analytics to gain insights into audience engagement, among others.
Noteworthy are its privacy-centric sharing alternatives. You can render a flipbook private, limiting its accessibility to a chosen few, protect it using a password, or opt for an "unlisted" mode, ensuring it remains hidden from search engine results.
Moreover, it magnifies the user's journey, enabling them to browse, choose products, and manage their shopping cart, thereby simulating a wholesome shopping experience
Online Database + Flipbook (PDF and HTML format)
CatalogMachine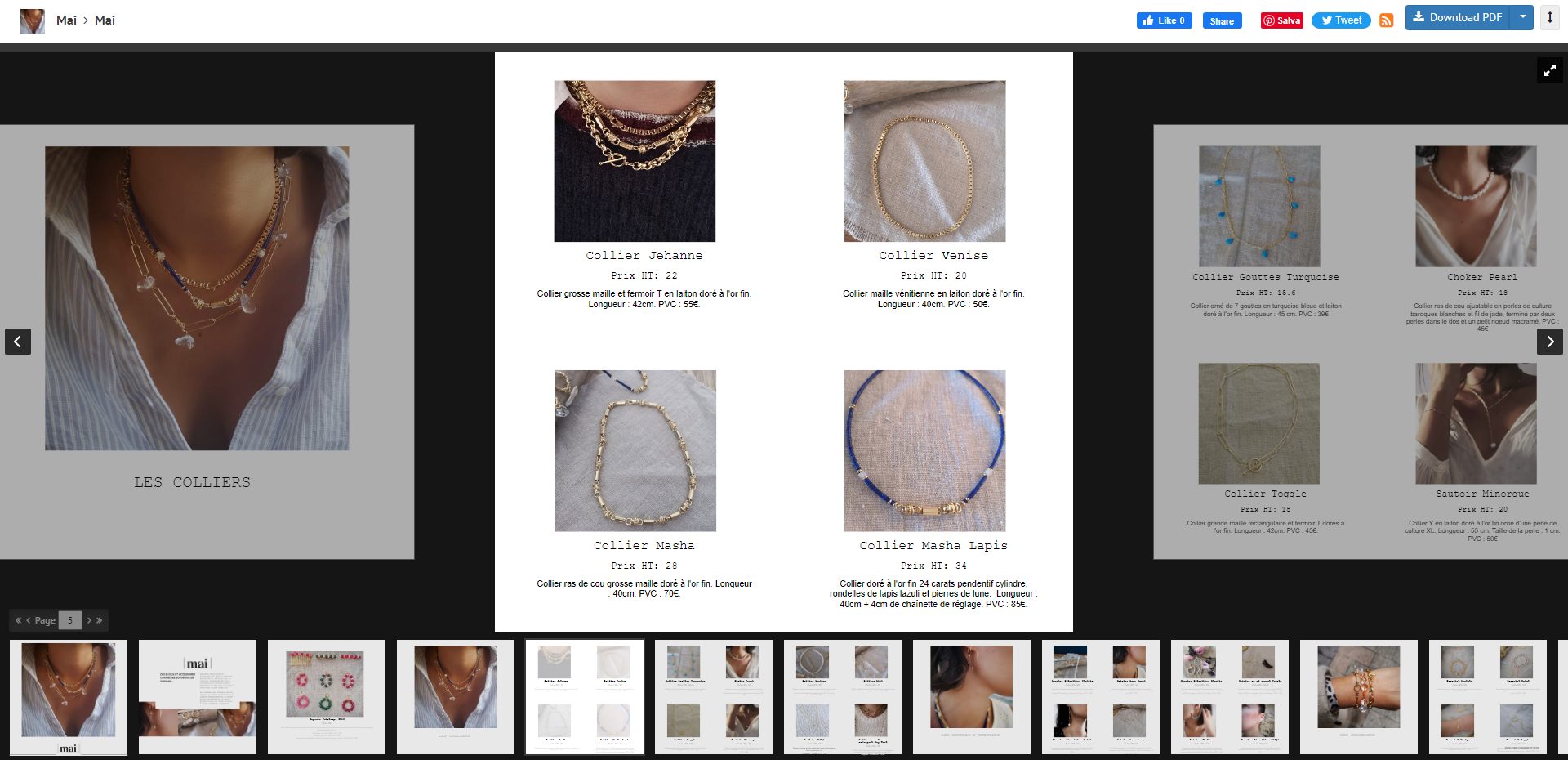 Positioned prominently in the catalog creation software landscape, CatalogMachine's primary mission is to produce online catalogs in both HTML (flipbook) and PDF forms.
Setting it apart from its contemporaries, CatalogMachine boasts its very own online database. So, for those without dedicated product information management tools like ERP, PIM, or e-commerce platforms, CatalogMachine provides the convenience of uploading and categorizing your data and visuals. Think of it as the foundational infrastructure behind e-commerce. It even offers a preview of products mimicking their display on an e-commerce platform.
A particularly handy feature is its real-time display of inventory levels.
Echoing features of other flipbooks, it ensures the catalog is responsive, morphing seamlessly depending on the device it's viewed on. These catalogs are easily embeddable on websites, shareable across social platforms, or via email, and offer the added security of password protection.
Analytics is embedded for tracking user interactions and behaviors.
While data organization proves efficient (especially when dealing with limited fields) and digital catalog features are robust, it does fall short on the design front. The resulting catalogs tend to lean towards a more basic and static design.
Online Graphic Design Platforms: Design Made Accessible to All
Online Graphic Design Platforms epitomize the democratization of design. Serving as digital canvases, these platforms provide users the capability to either tweak pre-existing templates or craft entirely new designs from the ground up, all within the confines of a web browser.
What makes these platforms particularly appealing is their inherent inclusivity. They're not reserved for seasoned graphic designers alone. Thanks to user-friendly interfaces and intuitive tools, even those without any formal design training can jump in and start creating.
However, it's essential to note that while these platforms facilitate design for all, the output might vary based on one's design acumen. For someone not trained in design, the outcome, while commendable, may not entirely mirror the finesse and nuance of a seasoned professional's work. But in an era where digital expression is paramount, these platforms ensure everyone has a voice.
Marq
Diving into the domain of online graphic design, Marq—previously recognized as Lucid Press—stands tall as a comprehensive platform, offering a palette of design possibilities. Whether it's crafting logos, designing flyers, conceptualizing posters, or assembling brochures, Marq provides both the novice and the expert a canvas to bring their visions to life. Among its versatile design offerings, it facilitates the creation of catalogs, further amplifying its utility.
Drawing inspiration from familiar interfaces, Marq's design bears a striking resemblance to popular Google editors like Google Docs or Google Slides, ensuring a reduced learning curve for new users. Collaboration lies at the heart of Marq's ethos; users can seamlessly invite team members to co-create, ensuring a collective design experience. Once your masterpiece is ready, it can be effortlessly shared, thanks to the integrated Marq cloud publishing feature.
Integration is a breeze with Marq, offering connection points via APIs or other tools. Its innovative 'smart fields' automation allows users to make content dynamically responsive, linking fields to various data sources like spreadsheets, CSVs, Google Sheets, XML, or MLS.
Printing needs are also addressed in-app. Users can define every detail of their print job, from the type of typography to shipping preferences.
With Marq, not only is the design process simplified, but sharing becomes instantaneous, especially on social media, ensuring your creations reach the intended audience swiftly.
Drawtify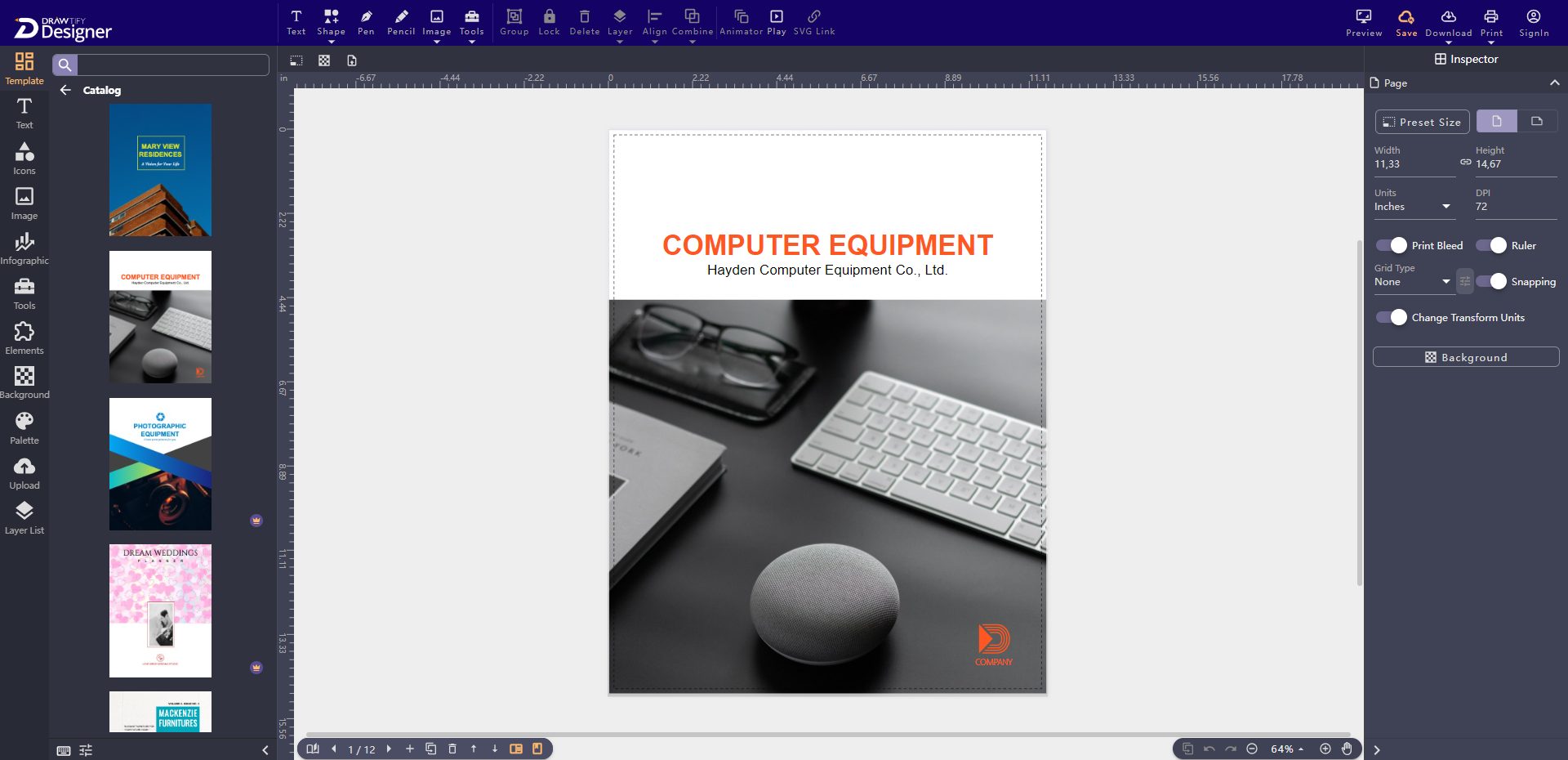 Drawing inspiration from industry titans like Adobe Illustrator, Drawtify emerges as a user-friendly online vector graphic design platform, albeit with a more streamlined approach. This platform shines in its dual capability: while it is adept at crafting vector files, it also boasts a diverse template library, ranging from brochures and flyers to images—thanks to integrated resources like Pixabay and Unsplash.
Navigating through Drawtify, users can effortlessly select and customize templates to meet their unique design visions, sprinkling in vector text elements or vibrant pictograms as desired.
A deep dive into its features unveils gems like the Motion Graphics Editor, a tool tailor-made for designing enthralling animations. The Photo Editor, reminiscent of a distilled version of Photoshop, offers a multitude of image enhancement tools. Whether you're looking to tweak saturation levels, adjust brightness, crop, or introduce transparency, Drawtify has got you covered. Its AI-driven background removal further adds to its repertoire of functionalities.
Paying homage to its Illustrator roots, Drawtify encompasses essential tools for object alignment, resizing, and intricate typography adjustments—be it selecting fonts or tweaking color schemes. Venturing into the realm of depth, its 3D effects tool can introduce a new dimension to designs.
With plugins at your disposal, crafting barcodes, QR codes, and visually appealing graphics and maps becomes a straightforward process.
Flexibility is key with Drawtify. Users can export their creations in a range of formats, from JPG, PNG, PDF, and SVG for images to SVG, GIF, APNG, and VIDEO (mp4, WebM) for animations, ensuring adaptability across various platforms and needs.
Catalog Creation in the Age of AI: Promise and Caution
In the ever-evolving realm of technology, Artificial Intelligence (AI) tools like Google Bard and Chat GPT are revolutionizing how we approach tasks, offering unprecedented levels of efficiency and creativity. The domain of catalog creation isn't untouched by this wave.
At a glance, AI offers numerous benefits for catalog creation. Tasks like refining copy for short paragraphs or automating spreadsheet functions can be significantly expedited. Yet, the dynamism of AI, which often borders on creativity, requires a measure of caution.
While AI's vast capabilities can enhance various aspects of the catalog creation process, the very nature of its 'creative thinking' can occasionally lead to over-elaboration or imprecision. In the meticulous world of catalog creation, where accuracy is paramount, such unintended creativity can be problematic.
For instance, while generating product descriptions or specifications, AI might produce outputs that, while grammatically correct, may not always align with the exact product details or the brand's tone. Such inconsistencies, while minor in isolation, can have a cascading effect on the catalog's integrity.
Thus, while the horizon of AI in catalog creation looks promising, it's essential to strike a balance. Utilizing AI for routine tasks while ensuring human oversight for critical elements can be the way forward. As technology continues to evolve, the industry watches with keen interest, ready to harness AI's potential fully while mitigating its challenges.
Looking for a Catalog Creator?
Publishing a catalog is a challenging task that can put pressure on even the best marketing teams.
You can use Pagination, the Catalog Creator to automatically create beautiful catalogs in just a few minutes that are always ready for print or digital distribution.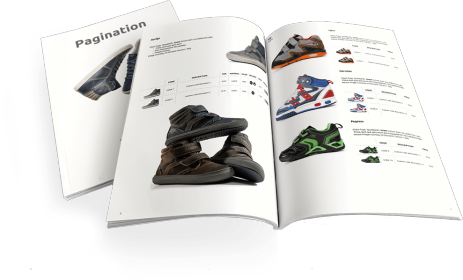 Watch demo
Create your automated document!