Be inspired by 12 Clothing Catalogs of different brands
If you are planning to create your clothing catalog and you're looking for ideas or if you simply want to know how clothing catalogs are designed and what information you can find, here you are a list of 12 real catalogs of different brands. Every catalog is described in its design and in the information it contains. If you need to create a ready-to-print or web-ready clothing catalog with ease and in no time, Pagination's cloud service can help you.
A complete soccer apparel catalog
Adidas' 2018 Team Soccer catalog is a landscape-oriented document. It includes a Table of Contents and chapter separators. The product style used shows all the variants of each garment, accompanied by product information such as names, prices, SKUs, descriptions, materials, sizes, and color variants. Sometimes, there is only one product on a page; other times you will find two products.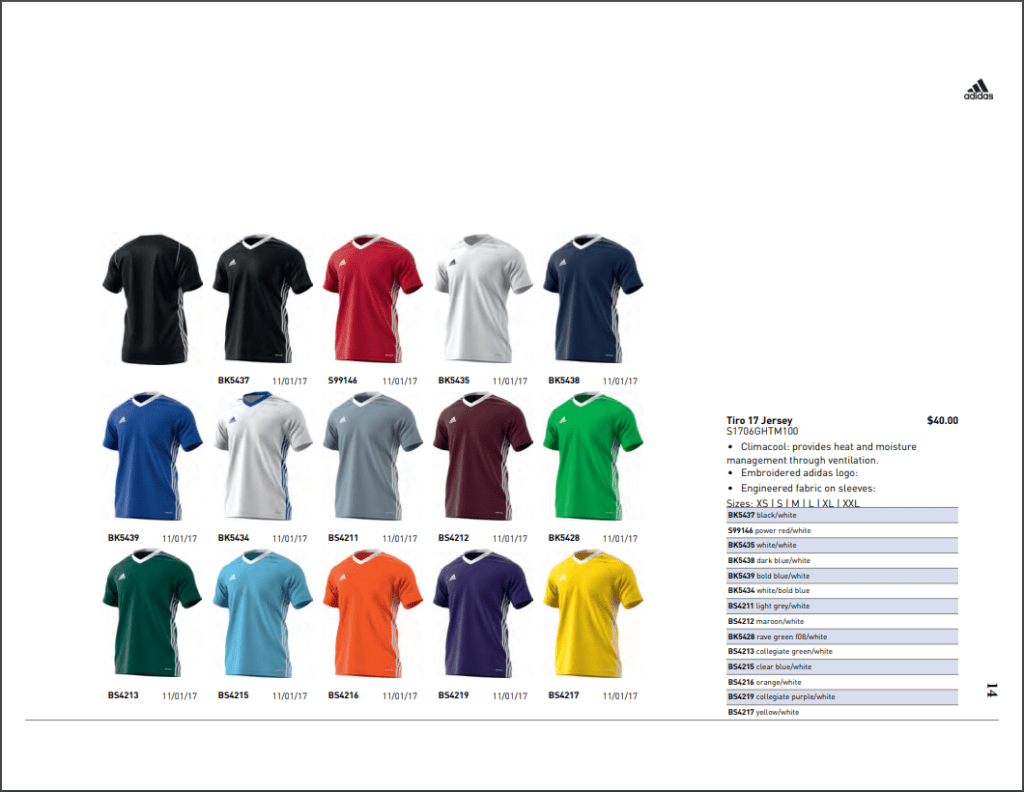 Motorcycle clothing
In this motorcycle apparel catalog from Triumph, every product category is introduced by emotional in-context pictures with brief descriptions. Clothes are presented using cut-out images and are completed with information like the product's name, sizes, and price. At the end of the document, you can find the company details.
A well-done catalog of work clothes
This impactful lookbook by Ørn is composed by different layouts, but it is always easy to read. Each of the displayed products is completed with information like size, colors, materials, and weight. This is a standard catalog with a mixture of cut-out and in-context pictures. A useful measurement guide is included at the back of the book.
Images that speak for themselves
This Linen 2018 lookbook by Noolan is totally focused on images. Apart from a quick introduction and a brief index, every page is composed of a large still life picture with the product's name and sizes. Categories are composed of using large images. The whole document is based on cold colors that remind is of the roughness of the Nordic landscapes.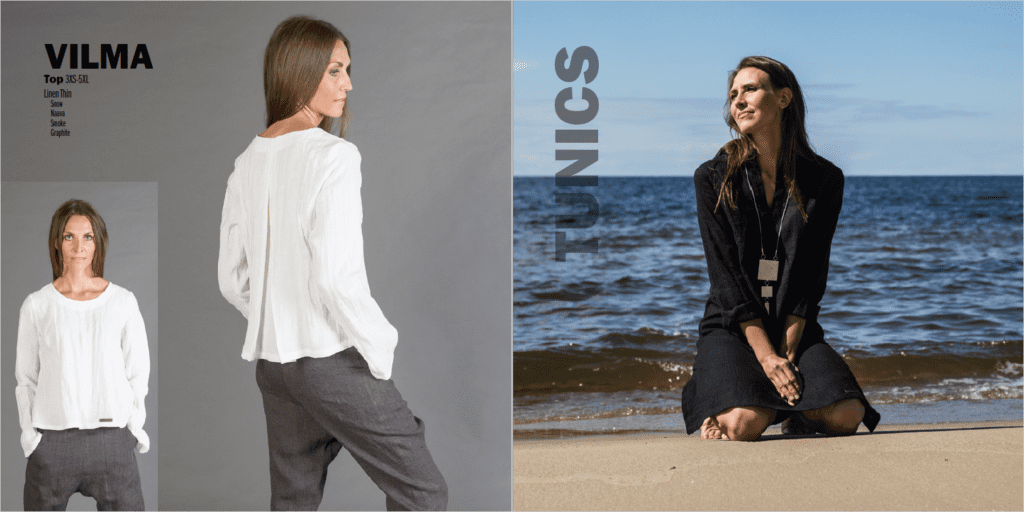 Detailed catalog of snowboarding apparel
A winter outerwear catalog by Billabong includes products presented using images and descriptions. The document has a standard structure that starts with a detailed TOC. Every page of the lookbook has at least one image and a rich description of the garment. The final pages include a size chart and contact list for each country.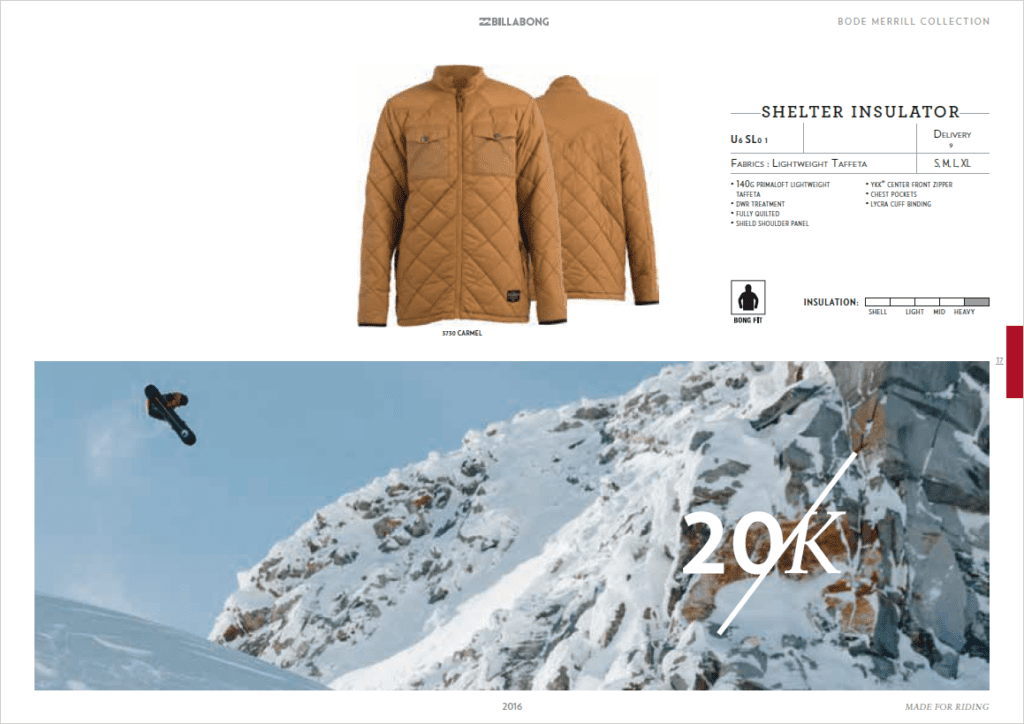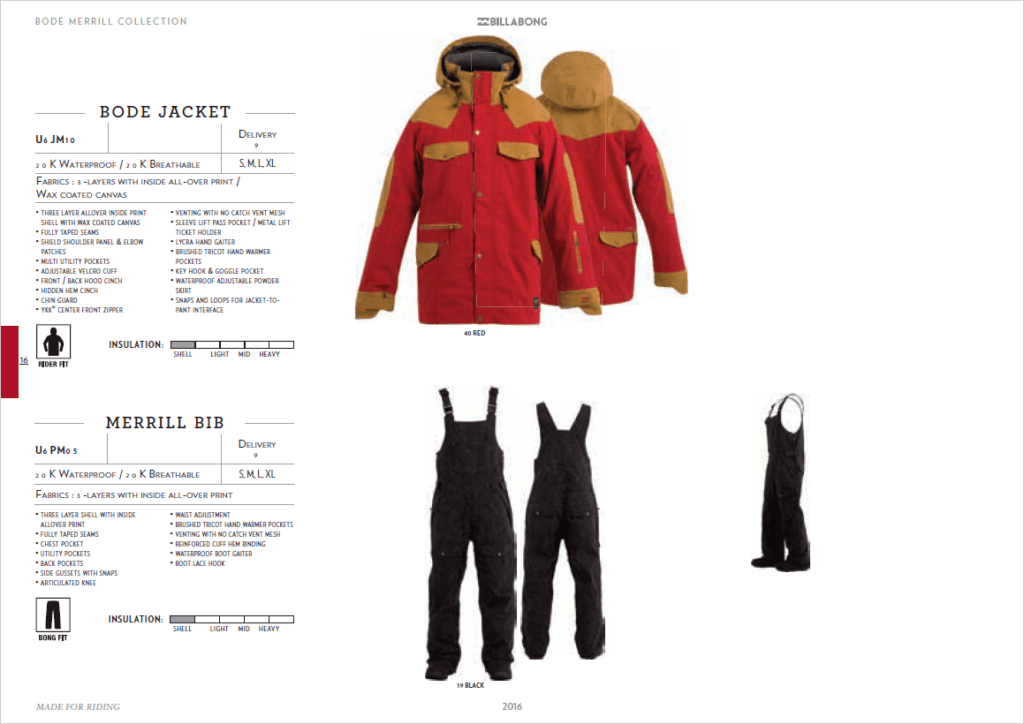 Full-page shots of urban outfits
The keyword for this lookbook by HS is simplicity. In fact, there is no information included, apart from each product's name. The layout remains the same for the whole document: still life pictures, often against a cold background
Luxury lifestyles images
Jalin Design has proposed a lookbook totally focused on images. The entire document is composed of in-context pictures that communicate luxury and exclusivity. At the end of the lookbook, the firm's contact details are listed. This is the only information present in the catalog.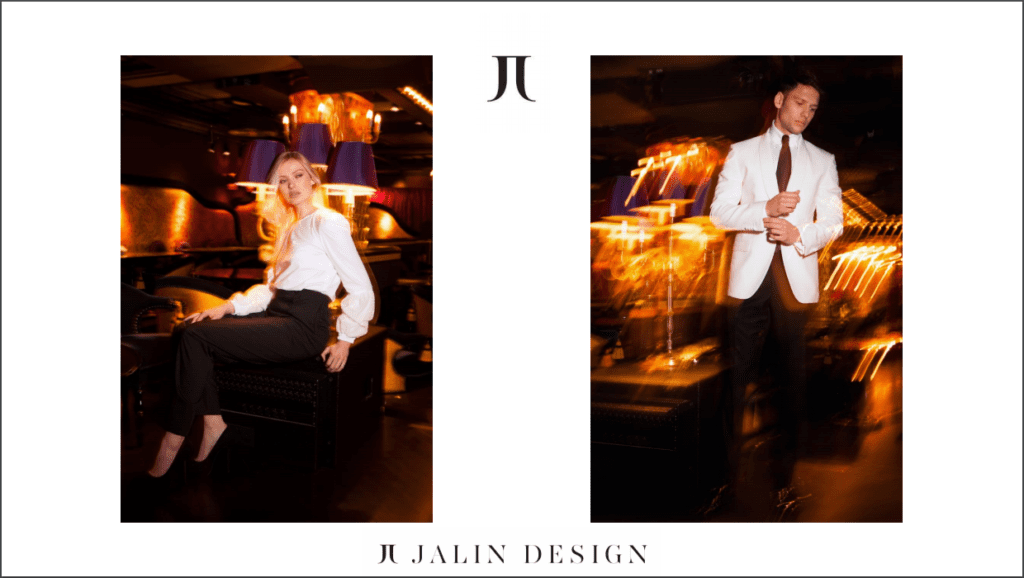 In-context and cut-out shots
Vaude's spring-summer lookbook is focused on mountain sports apparel. The document is a mix of in-context pictures and cut-out images. The lookbook has hot colors that remind readers of summer and nature. The name of each of the garments appears in the lower right-hand corner of the page.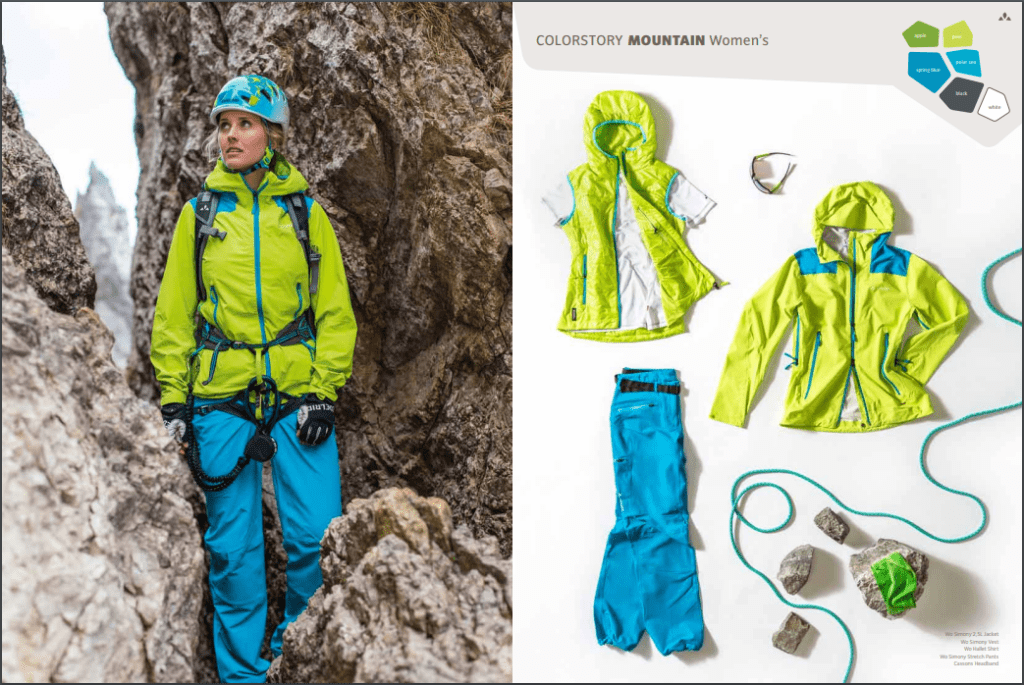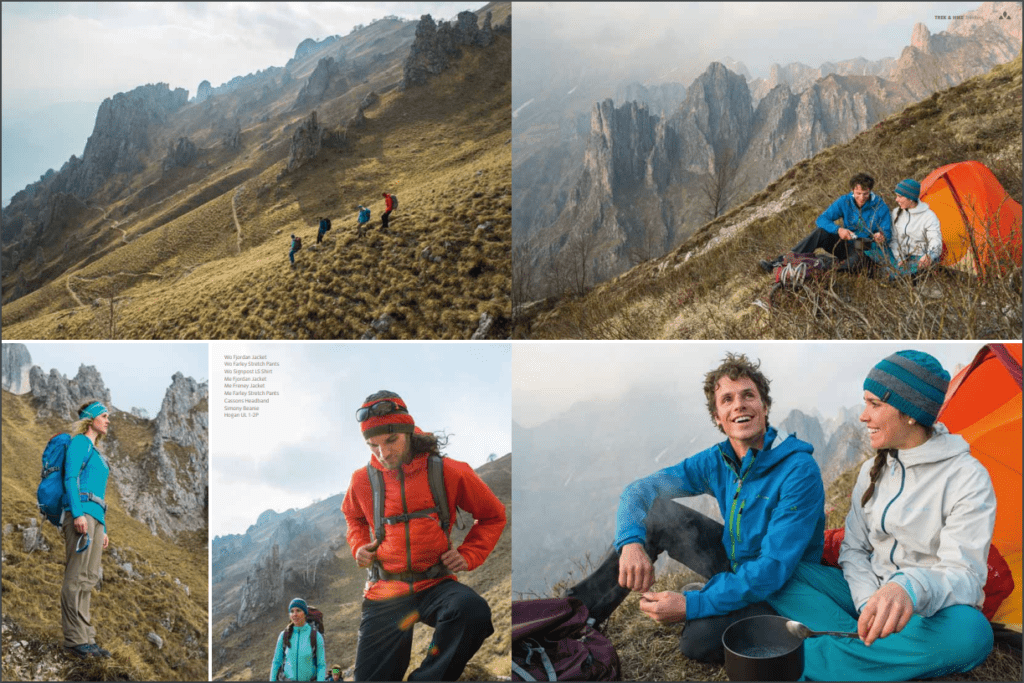 A well-done catalog: everything in its place
In this detailed, everyday clothes catalog by Uneek, almost all of the pages have a large still life picture and a detailed specifications list with colors and sizes. There's also room for a detailed index and size and measurement guide. A list of newly available products is included after the index.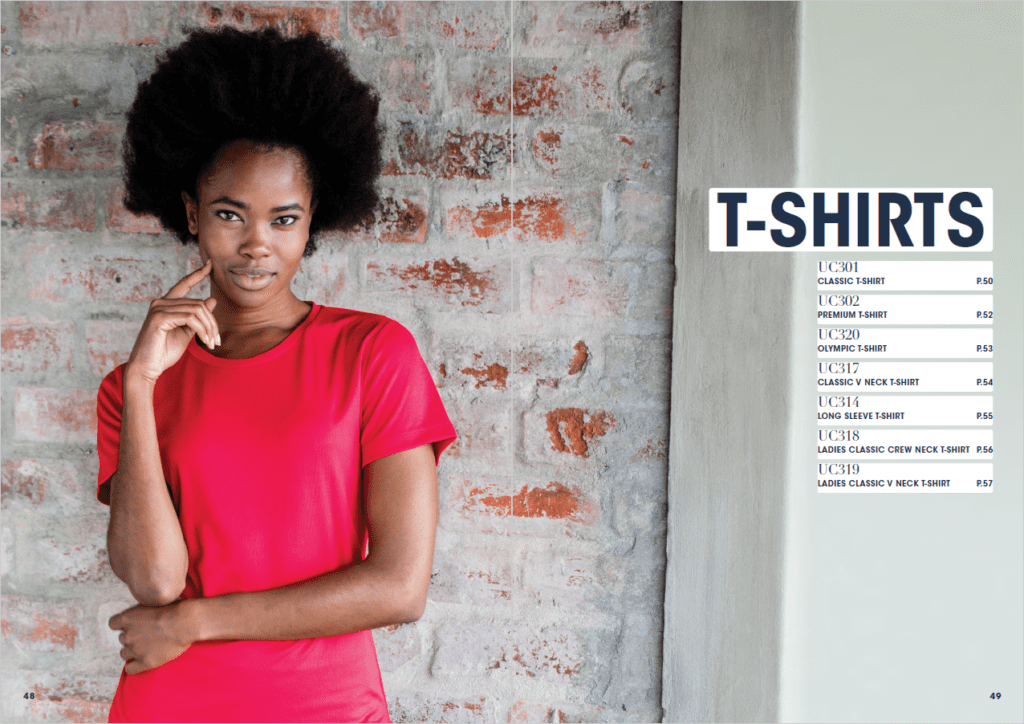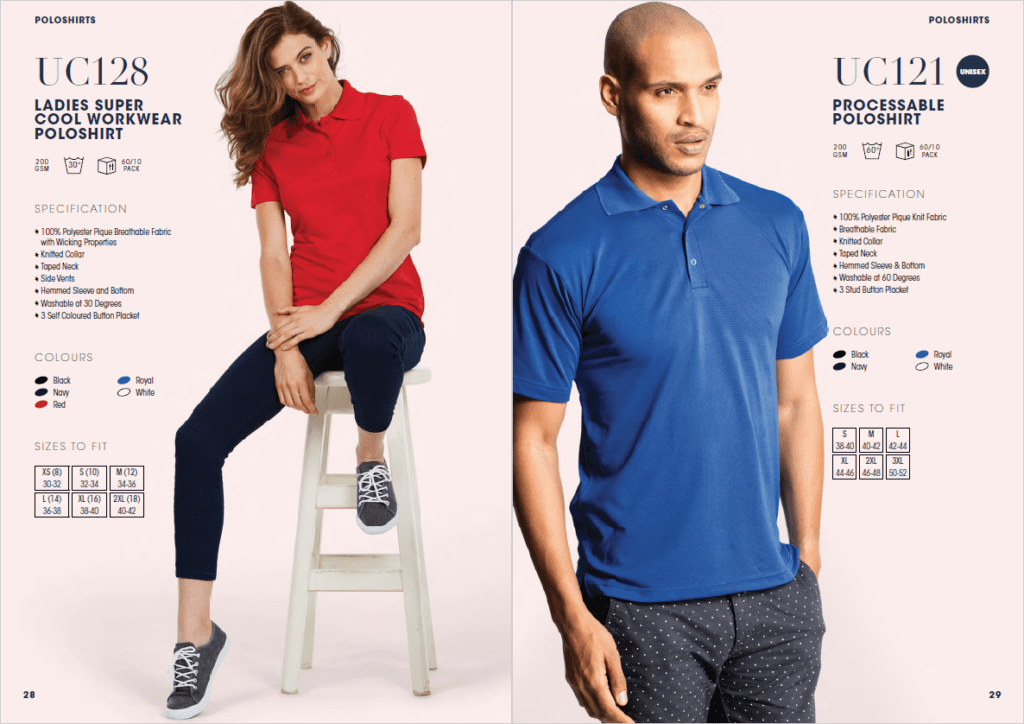 An excellent range of colors
Delta Apparel's catalog is a hybrid between a lookbook and a typical product catalog. Every page has a large product image that demands attention, but there's also room for product details that vary from colors to sizes. This casual clothing catalog is composed of a mixture of in-context and still-life pictures that make the document dynamic.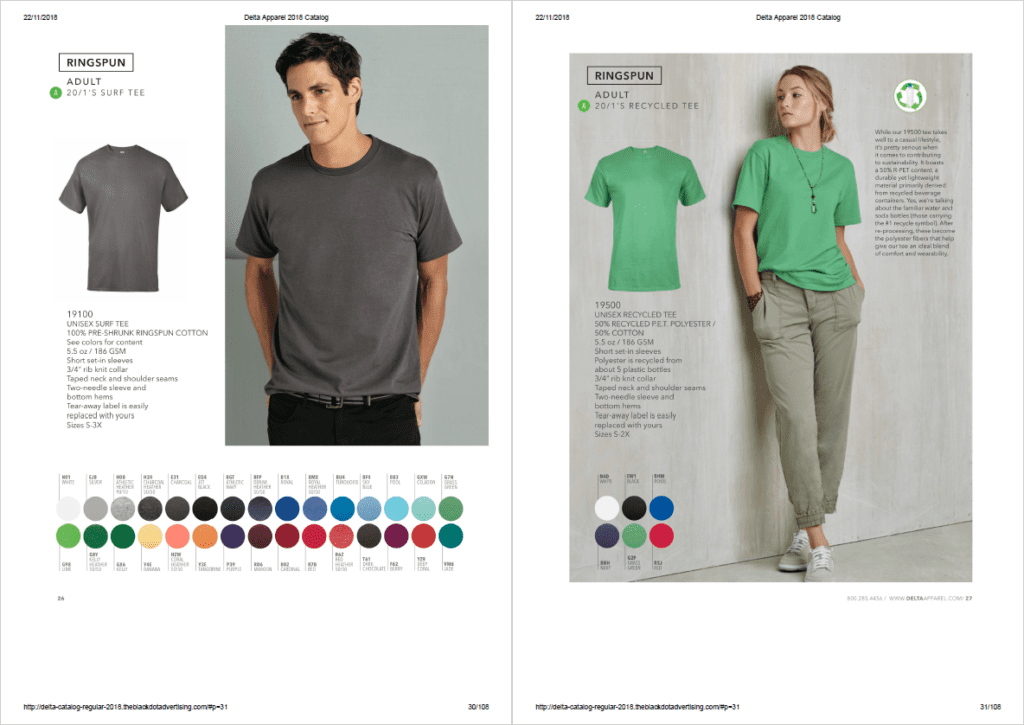 Clean and effective
This catalog by Gildan is image-driven. In fact, the entire document is composed of in-context pictures, but there's also room for detailed product descriptions. The right balance between these two elements gives a sense of clarity to the whole catalog, making it catchy and easy to read. The document is completed with a sizing chart and index.
Nice shots in the studio
An impactful fall-winter lookbook by Prana, this whole document is composed of a mix of in-context and still life pictures that make the catalog colorful and various. Prana decided to create a minimal lookbook; apart from the name of each garment, there is no information given about the clothes, nor is there much information provided about the company.