INDESIGN BROCHURE TEMPLATES
A collection of free and premium brochure templates for any industry, ready-to-use and customizable. Made specifically for Adobe InDesign.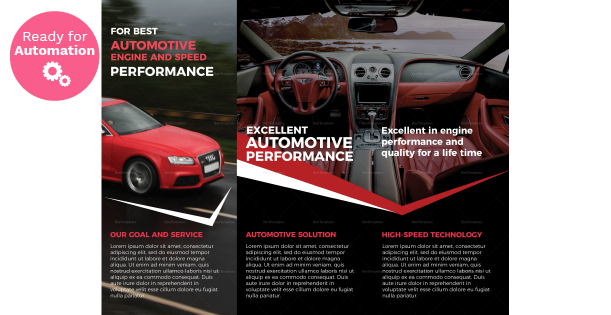 Trifold Automotive Brochure Template
Files:
INDD, IDML, AI, PSD, DOC, PUB
Features:
Link your data file to this template and create unlimited documents in minutes and at any time, in InDesign and PDF format. Discover the advanced features you can enable and contact us to start your automated project.
Download
This tri-fold brochure template, with its appealing and dynamic structure, is the best solution for promoting your sports car. There's room for images and text, and the brochure design allows you to highlight the details of the car. The template includes photos and artwork and is editable in different formats, including InDesign, Illustrator, Photoshop, MS Word, and Publisher.
Create your automated document!