A selection of seed catalogs to get inspiration for your project
If you need the inspiration to create a seed catalog, or you just would like to see how seed catalogs are made, you can find here a collection of real catalogs in pdf format or flipbook mode. Each document has a short description in which you'll find useful information such as the layouts used, product information displayed, types of photographs, and so on. If you have to create a ready-to-print or web-ready catalog or price list in no time, without errors, Pagination's cloud service can help you.
Catalog with Extended Descriptions
This seed catalog by Echo is a handmade document with a portrait orientation. It is a descriptive document, in fact, every product features its own extensive description. Near every product, you will also find a relative in-context picture. The catalog opens with a table of contents, but there are no chapter separators. Overall, the document is well-structured and it results quite clear.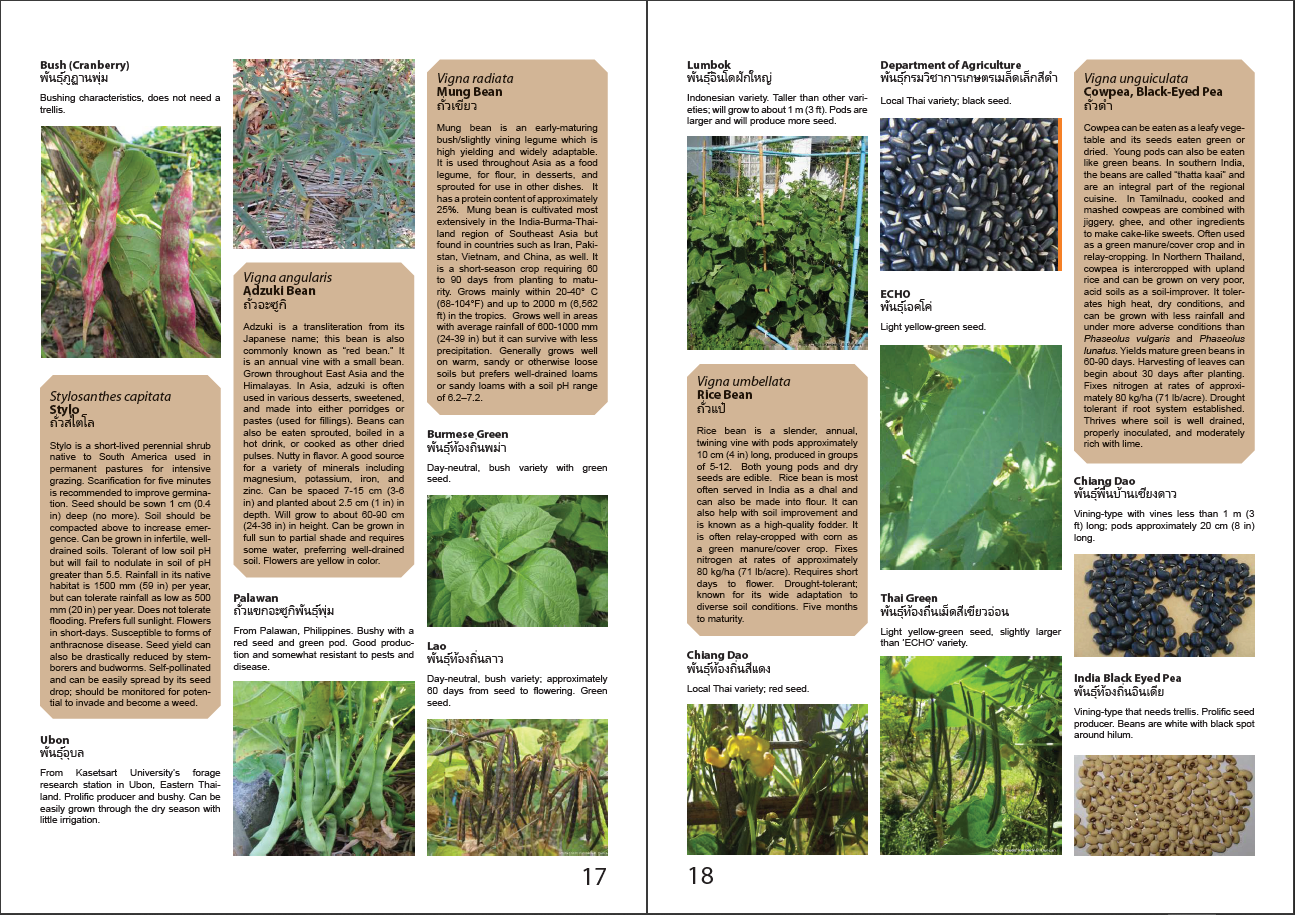 Handmade Catalog with a Linear Structure
The Semo catalogue is a quite schematic document. Products are displayed with a description and a picture, but there are also many tables filled with useful information such as seed type, root, and use. There are no chapter separators, but there is a table of contents at the beginning of the document. The catalog maintains a linear structure, even though it is handmade.


Practical Seed Catalog
The Germania catalog has a simple and linear structure based on text. Products are presented in brief descriptions that contain all their necessary information. Images are presented only with specific products. At the top of each page, readers can find a chapter name, but there is no index or table of contents. The document may look a bit monotonous, but, overall, it is well structured and gets the job done.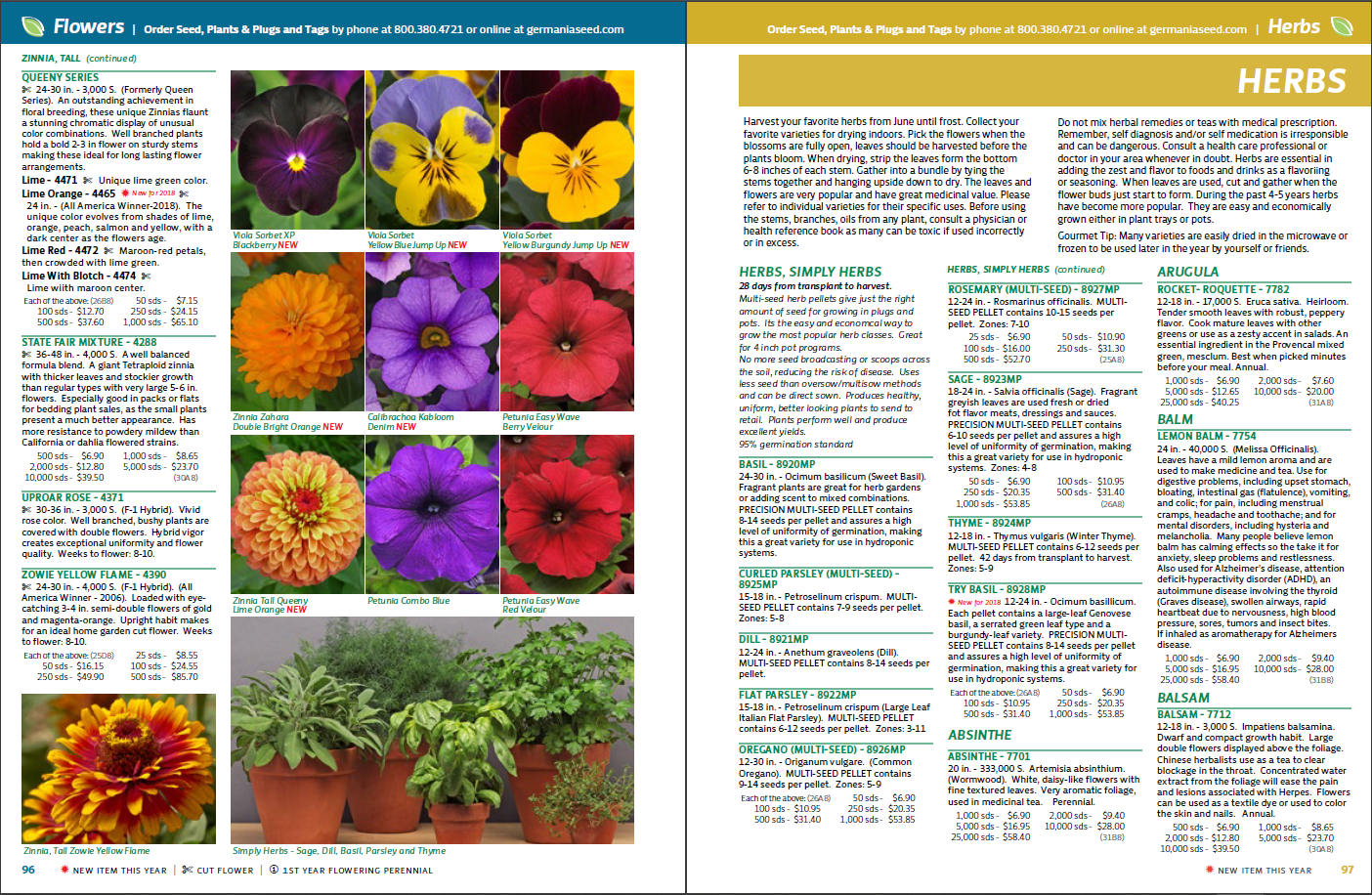 Colorful Catalog with Ads
The Gloeckner seed catalog is a colorful document with a standard structure running throughout almost all the catalog. The top of each page includes an ensemble of in-context pictures, while the lower half of the page contains all the products' information. At the end of the document, there are a few tables and an alphabetical index.
The Hottest Seed Catalog Ever
This catalog by Pepper Joe is a modern document with a clean layout that could easily be automated. Every product has its own description and a small cut-out picture. There are no chapter separators or indices, but they aren't really necessary, because this is a quite small catalog. At the top of every page, readers will find something like a chapter name, but the document does not use true chapters.
Standard Seed Catalog
This seed catalog by PanAmerican Seed is a classical document with chapter separators and a mix of in-context and cut-out pictures. Product information is displayed as tables, or as text near every product. At the end of the document there is an index and all the necessary contact information to get in touch with the right person.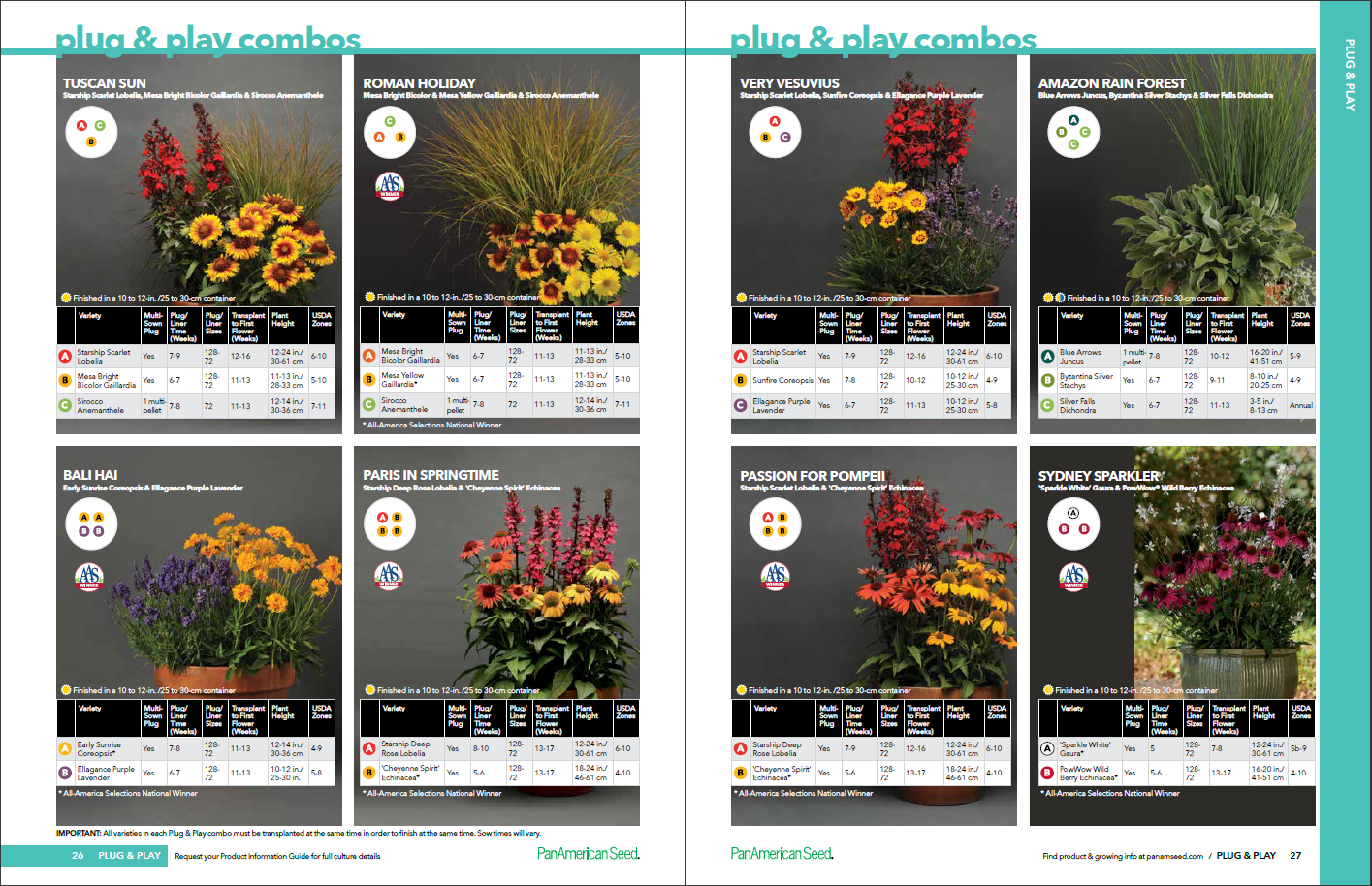 Catalog with Icons
The Osborne 2018 seed catalog is probably handmade. It is a quite standard document with different layouts and room for a variety of texts. Some products are presented using a picture, while others are not. Overall, the catalog is quite easy to read, and it is well structured. It includes a table of contents at the beginning, but there are no chapter separators. Some products also have icons that indicate useful information.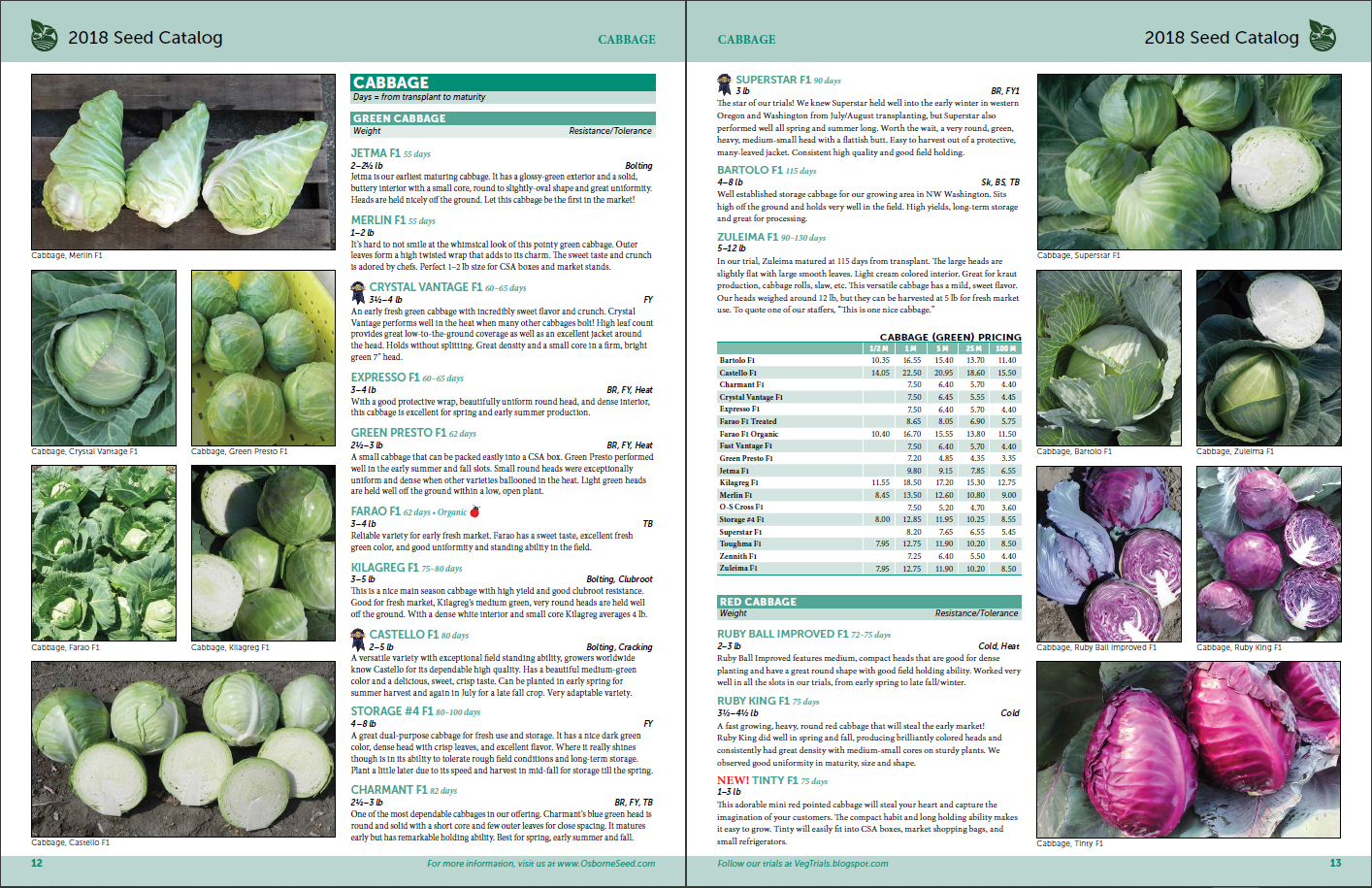 Colorful and Tidy Catalog
Agrinova proposes a colorful handmade catalog with a quite standard structure. Products are mostly presented by in-context pictures and tables, but there is also some text. The document is quite tidy, and the background color changes according to the displayed product. At the beginning of the document, you will find a table of contents, while on the last pages there is useful general information about seeds.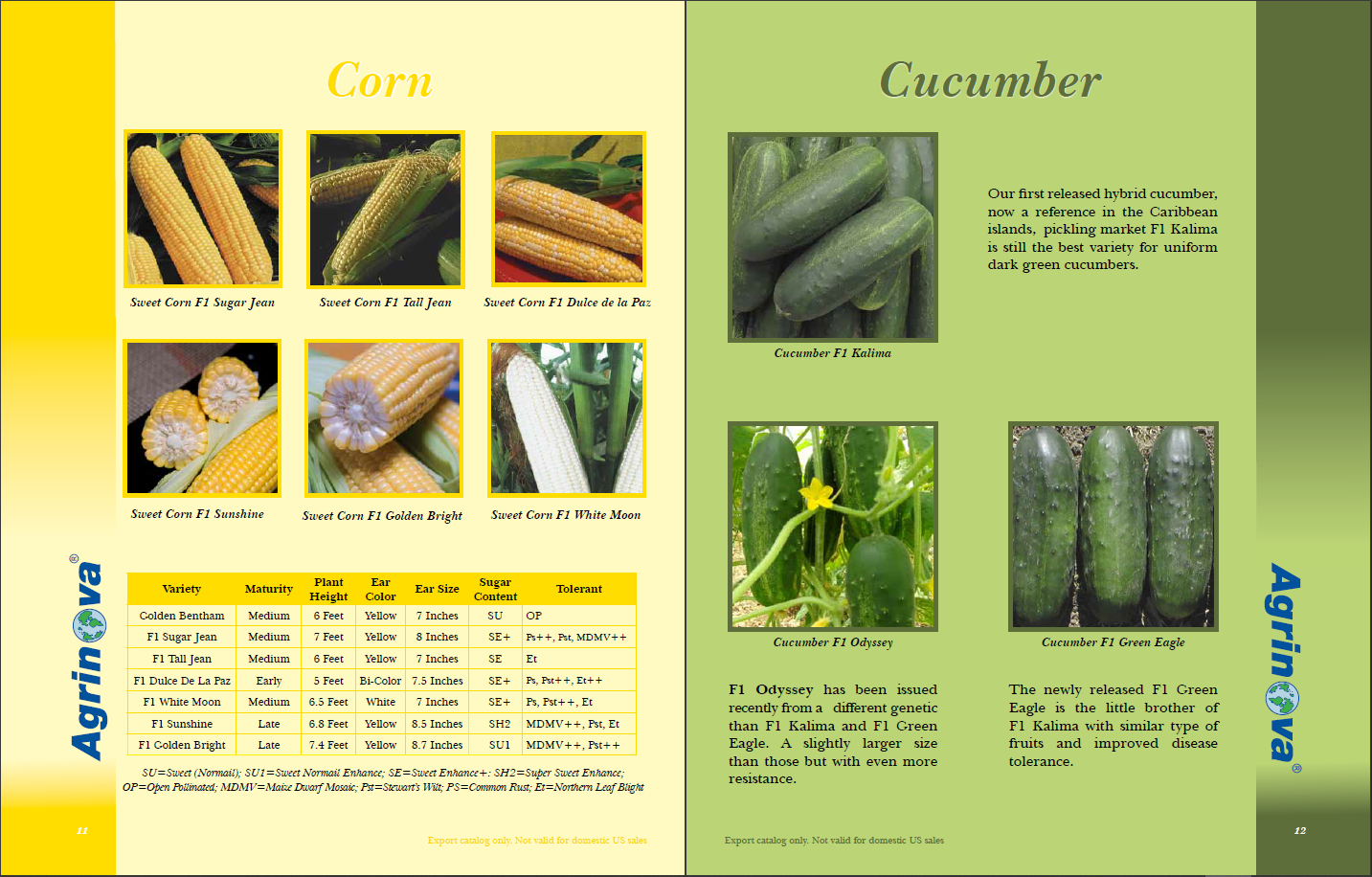 Handmade Clean Seed Catalog
This catalog by Lambley Nursery is a handmade document with a portrait orientation. The document is mostly text-based, and there are no tables at all. Products are presented using in-context pictures. The document is well-structured with a clean structure. There is no index or table of contents, but these are not really necessary.