A selection of real toys catalogs of different brands to get inspiration
If you're looking for inspiration to create your next toy catalog, or simply want to see how toy catalogs are made, you can find here a selection of real catalogs in pdf format or flipbook mode. Each document has a brief description in which you'll find useful information such as the layouts used, product information displayed, types of photographs, and so on. If you need to create a ready-to-print or web-ready catalog or price list in no time, without errors, Pagination's cloud service can help you.
A Toys Preschool Catalog
This small and tidy toy catalog by Hape is focused on preschool games. There's no table of contents, but there are big, in-context pictures which serve as chapter separators. Each product has its own full set of information, such as its barcode, name, and SKU. At the end of the document, you will find Hape's contact information.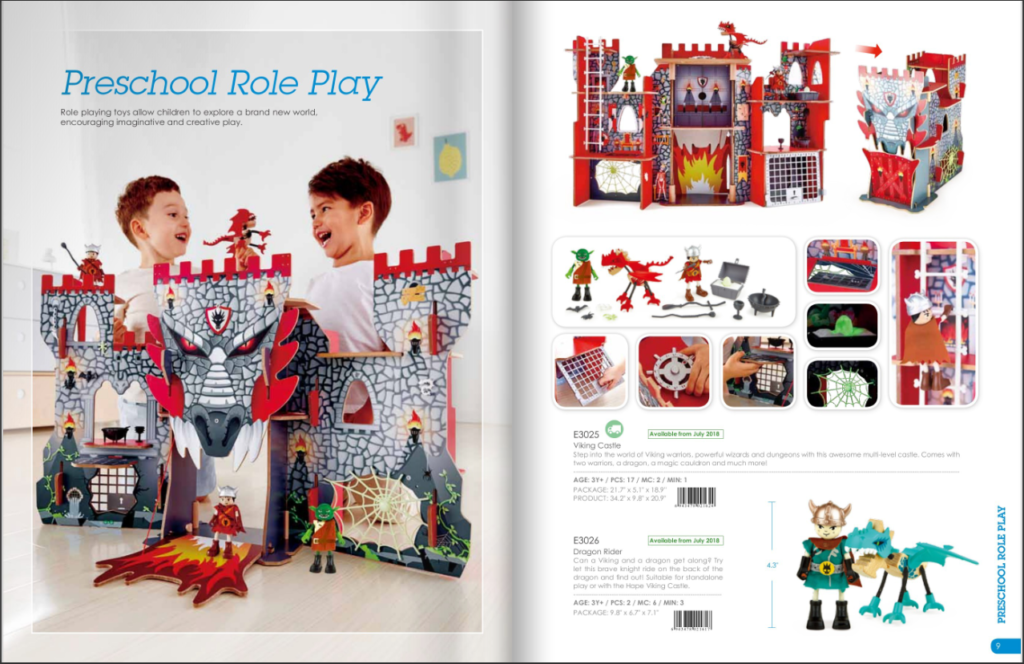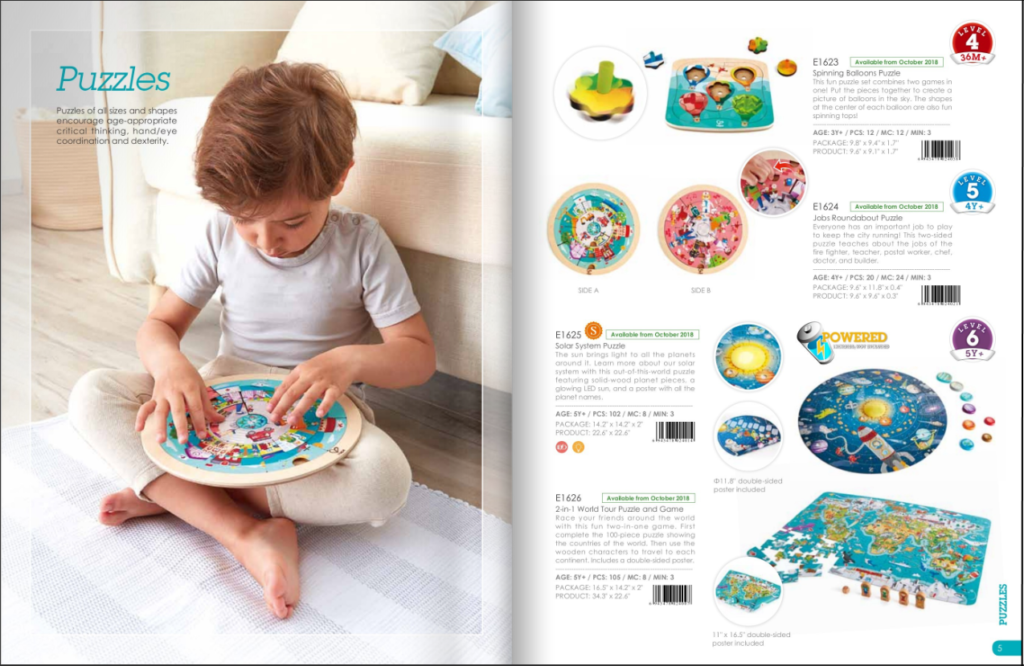 A Joyful Catalog
This colorful fall catalog by Lego is a detailed, handmade document with a portrait orientation. The catalog is composed of in-context pictures with precise descriptions. The whole document is well structured and quick to read. There's also a table of contents at the beginning of the catalog to help readers navigate through the pages.
A Mix of Portrait and Landscape Orientations
The Manhattan Toy catalog is a classic catalog with a table of contents and chapter separators. The document is mainly composed of cut-out pictures, but there are also some in-context pictures. What makes this catalog unique is the choice to combine together portrait and landscape orientations. Plus, on every separator there's also an inside index of the chapter.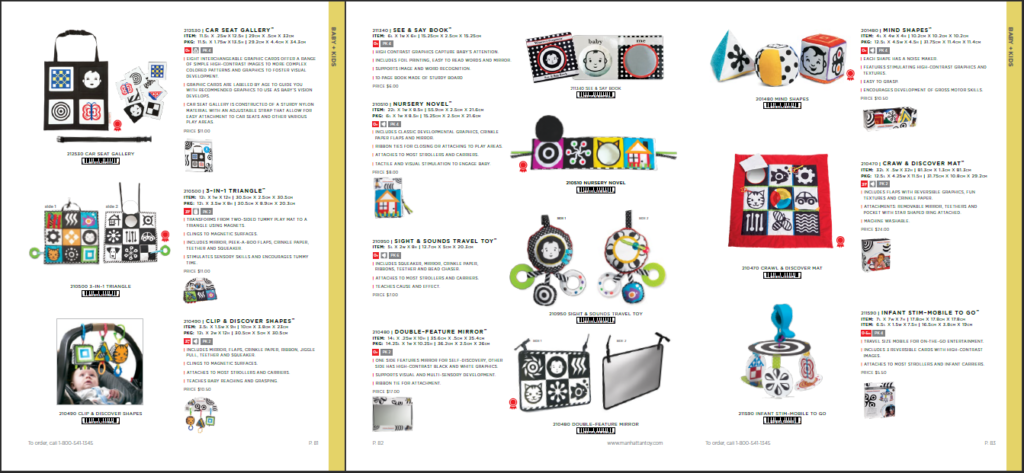 Simple Catalog with Barcodes
Goki's catalog is a simple document with a clean structure. It uses chapter separators, and every product includes basic information like the SKU, barcode, and product name. Each chapter has a different color, which helps to distinguish among them. There's no table of contents or index, but they aren't really necessary in a document like this.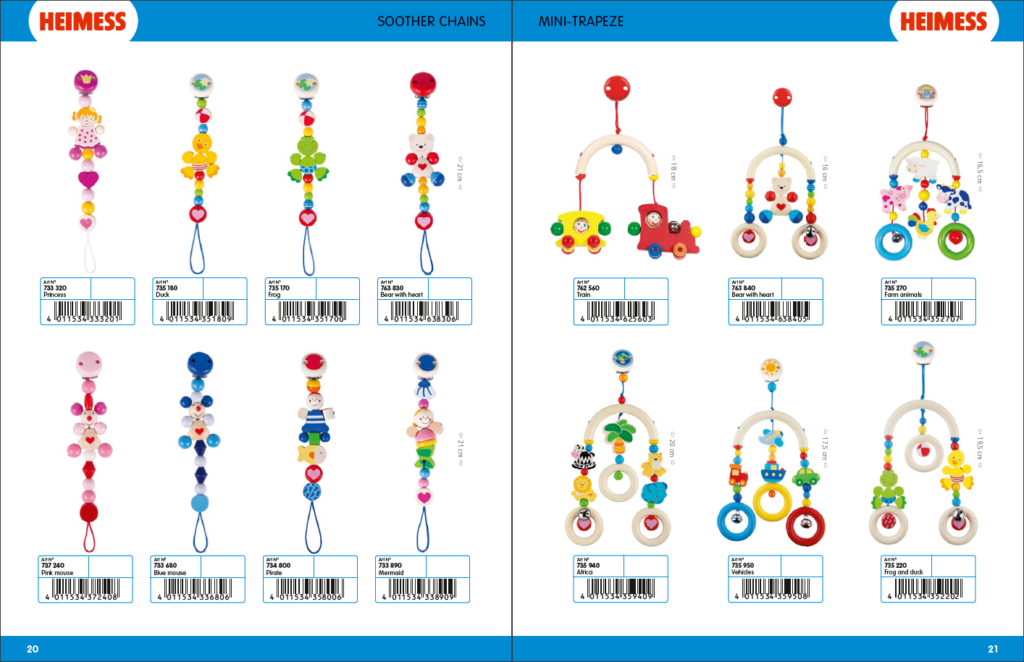 Standard Toy Catalog
The 2016 catalog by KSM is a handmade document with a table of contents at the beginning. It features a standard structure and looks like a lot of other toy catalogs, but it is still pleasant to read. There are no chapter separators, but here they aren't really necessary, because the document is easy to navigate.
Outdoor Toys Catalog
Traditional Garden Games proposes a beautiful catalog dedicated to open-air play. The whole document is a good mix of in-context and cut out-pictures. In-context pictures are used as chapter separators that showcase a particular product. The catalog is well structured and easy to understand, and it has been done using different layouts.
SEE TRADITIONAL GARDEN GAMES CATALOG
A Clean Board Games Catalog
This lifestyle catalog is a tidy and detailed document. Every product takes up a single page, which includes all the necessary information, such as the components, number of players, minimum age, and much more. The document is composed of cut-out pictures, and below every picture is a summary of the game's plot, which is useful for learning more about the product you are going to buy.
SEE LIFESTYLE BOARD GAMES CATALOG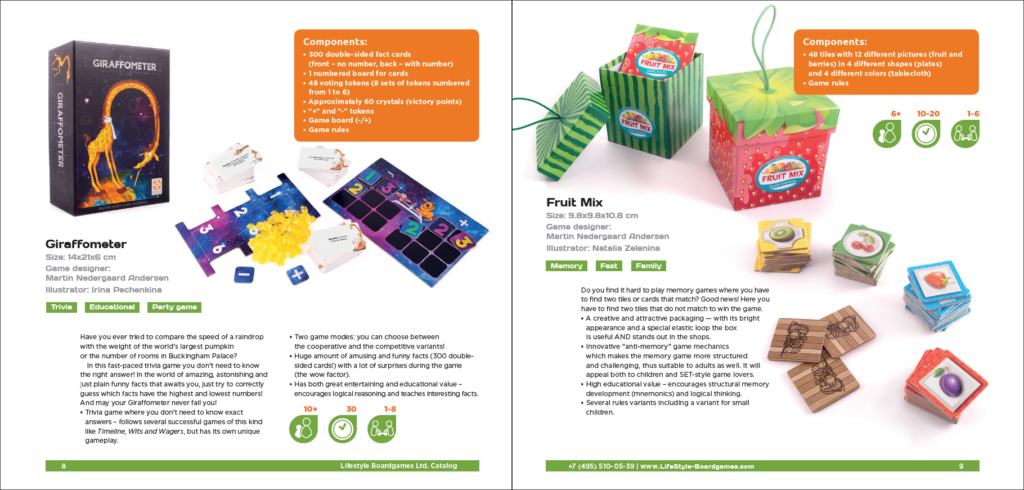 A Typical Videogames Brochure
Eb Games' document looks like a classic videogames brochure: it's colorful and contains a lot of special offers. This kind of document is handmade and is composed of large cut-out pictures with a particular zoom on pricing or special offers. The catalog has no particular layout, because images fill each page. There is no index, and no chapter separators are used, because the document is well structured and fast to read.
Play To Learn
Simply Fun proposes a landscape orientation catalog of didactic games. The products are divided by chapter separators, which makes it easier to choose the right game for you. There is also a table of contents at the beginning of the document. The document is well structured and made up of cut-out pictures. There is no specific structure, but the catalog remains easy to read.
A Colorful Catalog
A multi-language catalog by Schleich, this colorful document used themed pictures that almost entirely fill each page. Every page has a small space for the products' name and the SKU. There are no chapter separators, but there is a table of contents, and every chapter has a different background color. At the beginning of the catalog there is also a bit of general information about the products.