What is Web to Print?

Web to print, also called Web2Print, W2P or Remote Publishing does not just have one general definition. Many different processes, systems and software fall under this umbrella term.
Web to print combines the traditional way of producing print materials, as well as all other processes that take place online, like the creation and publishing process for example. So web to print describes all processes that are necessary for the creation of print materials online and the many different ways you can do them. From editing of simple templates, uploading and generating print materials to database publishing, all of these processes are part of web to print.
Advantages of Web to Print:
Timesaving
Very user friendly and easy to use
All processes take place online
Streamlining of the publishing process
Documents can be changed until you actually place the order/ press print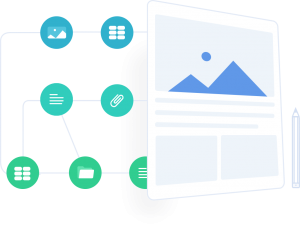 What is the difference between Web to Print and Web to Publish?
Web to print and web to publish are often used interchangeably. Web to print, however, is only a subset of web to publish.
When you are talking about web to print it includes basically everything that leads to the creation of print materials online. By definition it is important that all final goods are on tangible print materials only.
Web to publish on the other hand encompasses the generally Internet-based production process of all printed and digital media channels. The goal is to publish content through a centralised system. What the print media actually is does not play a role in web to publish. Common print media but also online media and even apps are described by the term web to publish.
Thus web to publish is the umbrella term and web to print is just one specific part of web publishing. Nevertheless web to print has become a generally accepted term and has been associated with all parts of online publishing.
What is Database Publishing?
Database publishing is the masterclass in web-to-print and means that the production of print media can be started at the touch of a button.
Database publishing is the automation of the printing process, where information is taken from a database and automatically formatted and exported. Templates are adjusted to the customer's wishes before linking and then filled with the necessary data using automation. This automation reduces costs and time immensely and allows documents to be created in just a few seconds.
You can produce following print media using database publishing:
Catalogs
Price lists
Inserts
Flyer
Ads
Datasheets
And much more
Software as a Service (SaaS) in the Web to Print Industry
Web to print as well as database publishing companies often mention the term "Software as a Service" when describing their business. With Software as a Service, users get the opportunity to use a Software with the help of a cloud, so the entire process takes place online. Which makes it super easy to use as no additional software or plug-ins must be installed and frequently updated. There are usually monthly or annual fees for the use of SaaS applications. Database publishing is thus also associated with the term Software as a Service as well as web to print.
Create Catalogs and Price lists in Seconds
Pagination is a cloud-based database publishing solution that lets you take data from any source and automatically convert it into beautiful documents. With Pagination, you can create both PDF and InDesign files anywhere, anytime, without installing any software or plug-ins, or undergoing any special training.
Pagination enables you to create an unlimited number of documents from your data. Whether it's a comprehensive catalog, price lists or multiple editions in different languages, currencies, etc. You can choose between many of our templates, create it one yourself or have a template created entirely according to your needs with the help of our team. You also have the option to easily connect your apps to our service to avoid tedious and time-consuming exports and imports. With our cloud based software your documents will be created for you in no time, 24/7 and from anywhere in the world.
What is the difference between Open and Closed Shops?
The general goal of open and closed shops is to sell print materials. The difference lies between the accessibility of the shops. Depending on the type of shop you offer it actually does make sense to make it accessible to everyone or to close it off and only offer access to members or other specific groups only.
Open Shops:
Open shops offer products and services for B2B as well as B2C customers. They are characterized by the open concept of an online store. Users have the opportunity to order something via the store without a subscription or prior registration. You can independently upload documents or other media, edit them and place orders.
Open shops include sites that offer, for example, standard printed materials such as photos, business cards and printed promotional items such as T-shirts, mugs, etc.
Closed Shops:
Unlike open shops, closed shops are not accessible to everyone. The target group of closed shops are mainly companies, businesses, organizations or similar, so oftentimes more B2B oriented. Closed web portals are, as the name suggests, not accessible to everyone and protected by a password or login page. The focus of closed shops are different as they offer products or services that usually appeal more to B2B and often involves closer collaboration between the store's support teams and the customer per se.
Closed shops include sites who often work with more complex advertising materials or automate processes for the automatic creation of catalogs and price lists, for example.
What are Self Service Portals?
Self Service Portals are part of the B2C category of web to print. They are part of the open shop system, so shops that are accessible to everyone and do not require initial registration or a subscription in order to be used. Online print stores include many different types of printing companies that offer a wide range of print products such as photos, promotional items, documents, and more. These self-service portals are often considered as the traditional type of web-to-print.
Online print stores perform many different tasks for the customer:
Procurement of print materials
Branding and quality control
Document management
Workflow automation
What is Print on Demand?
With print on demand, products, as the name suggests, are printed depending on the demand. Print on demand is again not about a specific product, this term can apply to a vast variety of products including but not limited to posters, T-shirts, mugs and business cards. The big advantage of print on demand is that you do not have to order huge quantities or calculate the necessary quantity of a product, also the shipping and handling is taken care of by the print on demand website. You can for example illustrate an image and offer that on your website, by using a print on demand page they will handle the printing, shipping and handling, while you have no risk of over ordering stock and the responsibility of doing all the steps supplied by print on demand stores.
Advantages:
Products can be produced very quickly
No risk, as production is only according to demand
Shipping and handling is taken care of by the supplier
Disadvantages:
Lower profits due to the fees paid to the seller
No control over handling and shipping
No quality control possible
Template Based Solution
Editing templates is a common offer in the web to print industry as this offers consumers easy access to more elaborate content which is still easy to manage without any additional skills needed. Many different types of companies offer this easy solution.
Customizing a print template is a simple way to create a complex document and make it fit your needs and wishes. From the color, images or to other more complex segments, almost everything can be changed or exchanged in a template. This process requires relatively little effort and is offered by various companies in the web-to-print industry. From simple photo book editing to the complex creation of catalogs, template based solutions offer a wide variety of products.
WYSIWYG Editor
WYSIWYG is an abbreviation which is often used in the web to print industry and stands for "What you see is what you get" which means exactly what it stands for. A very well-known example of this is, for example, the Microsoft Word Editor. What you see in the editor view also corresponds to the printed final product. A WYSIWYG editor can be used in many different industries and offers the customer the preview of the finished product. This editor view is especially important in the Web-To-Print industry and is used in all areas, regardless of whether it is an open or closed shop system.
Online Book Publisher and their part in the Web to Print Industrie
Publishers are probably one of the most obvious companies to be part of Web to Print and belong to self service online portals. These optimize production processes online and, among other things, often incorporate automated workflows in order to streamline production of books and save time. Templates may be used, but also handcrafted versions that are perfectly tailored to the respective customer are offered, depending on the website used.
Web to Print Software Programs
There are many software programs which are used for web to print and assist many other softwares as well. One of the leading programs is without a doubt InDesign as well as other Adobe applications like photoshop or illustrator. Also Microsoft application packages including word and excel are commonly used in this industry. These are the basis of many automation processes, but they are also very popular for manual creation, because unlike other programs, Adobe InDesign and similar applications offer almost infinite possibility to design print products entirely according to your wishes and ideas.