Catalogs have long been an important part of the commerce business. After the first mail-order flipbook was introduced in 1667 by an English gardener named William Lucas, the sales tool quickly became prominent and brought millions of companies the success they were hoping for.
Today, the catalog is still one of the most powerful and valuable tools for commerce. However, after centuries of success in print, the tool has logically evolved to match the modern, tech-based world. Instead of print catalogs, businesses are now relying on digital catalogs. And they can open up a whole realm of new opportunities for you.
In the guide below, we have gathered some of the most effective tactics and tips that can help your brand make the most out of your digital sales catalog. So let's get to it and figure out the key to increased sales!
Use SEO Optimization to Enhance Visibility
These days, search engine optimization (SEO) is literally everywhere. It helps companies get in front of their target buyers, capture their interest, and convert them into loyal clients. All these goals are achieved through one crucial property of SEO – when handled right, it brings you to the top positions in the search engine results pages (SERPs). Thus, it makes you visible to prospects who are searching for information, products, and services similar to yours.
Generally, SEO principles are applied to business websites. However, they can be used for all online resources, including your digital product catalog. To make it easy to discover your catalog on the web, follow these simple tips:
Research keywords relevant to your niche and choose the most powerful ones based on search volume, competition, and other factors.

Optimize the primary content of your flipbook with chosen keywords. Also, insert targeted queries in meta descriptions, tags, and alt text.

Work on the technical SEO of your pages (i.e., improve load speeds, implement responsive design, ensure accessibility and readability, etc.). Use the handy SEO checker tool by

SE Ranking

for this purpose. The tool will provide you with a checklist of improvements that should be made on each page to take it higher in SERPs. It analyzes a variety of on-page elements and metrics that search engines consider when ranking sites.

Focus on delivering an outstanding user experience (UX). Present your digital catalogs as separate web pages and enhance them with intuitive search and other features. Also, tailor every page to the user's intent to create a better UX.

Build backlinks from trusted resources to build your credibility, boost ranking, and gain additional promotion from high-quality content featured on reputable sites.

Add Schema.org markup to your pages to help Google read and understand your content better and ensure that your products appear in SERP features.
Add Interactive Elements to Your Digital Catalogs
According to industry experts, interactive web features hold plenty of benefits for businesses. Most importantly, interactivity increases engagement, improves conversion rates, and boosts brand awareness. Studies confirm this. Research by Mediafly revealed that interactive content receives 52.6% more engagement than static content. Moreover, users tend to spend more time on interactive content (13 minutes) than on static content (8.5 minutes).
Needless to say, in order to make sales, you need to engage your prospects. This brings us to the second practice for increasing your sales with a digital flipbook – integrate interactive elements into it to create higher engagement.
There are many ways to add dynamic elements to your flipbook. Check out different digital catalog examples to see how other brands implement interactivity to gain some inspiration.
To help you get on the right track, here are the most common interactive elements to include:
Clickable product tags;

Pop-up videos;

360-degree product overview;

Videos;

Social bookmarking and sharing, etc.
Source: MoMA Design
Adding elements like these to your catalogs will make them incredibly engaging and fun to use. As a result, you should be able to spark prospects' interest and encourage them to buy from you.
Implement Real-Time Updates
You want your prospects to be updated instantly on any changes that may happen to your prices, discounts, stock, or any other things that may directly affect them To make this real, you should implement real-time updates in your sales catalog.
Offer instant updates on your current discount campaigns. Also, offer users live inventory tracking to let them know which items they can purchase right at the moment. Consider making real-time geo-targeted offers. Finally, flash sales notifications and back-in-stock alerts are also crucial, as these types of updates can have the most significant impact on users' purchase decisions.
By implementing all these features in your flipbook, you can take the quality of your user experience to an entirely new level. Your prospects will be able to get full information about every item before placing an order.
Drive More Traffic With Email
Even when you boost the visibility of your flipbook with the help of SEO, a bit of extra advertising never hurts to drive even more prospects (and more potential sales). Despite the huge number of marketing channels available today, experts recommend focusing on email, in particular. Studies show that marketers can earn $36 for every $1 spent on email marketing. This is a good reason to make email a part of your advertising campaign to attract more traffic to your digital catalogs.
To use email to your benefit, first, create a welcome email template for new subscribers that will offer them the latest version of your flipbook. This will help you get more eyes on your catalog because welcome emails tend to have the highest open rates.
In addition to bringing your catalog into welcoming emails, integrate it into your weekly newsletters. For example, establish a regular practice of offering personalized weekly promotions to your newsletter subscribers. This will help you nurture leads and stimulate their buying decisions.
Also, consider creating an email drip campaign to drive even more attention. And lastly, be sure to offer an email-sharing option to your flipbook to let existing customers share it with other potential buyers.
Create Web Push Notifications
Web push notifications can be a powerful re-engagement tool. By using them, you can enhance the marketing of your digital publications by providing users with timely and effective alerts on any device.
Web push notifications are basically clickable messages sent by your catalog or website to users' browsers. They typically contain an attention-grabbing headline, body text describing the main message of the alert, and a small image. The core purpose of such messages is to grab the user's attention and encourage them to re-engage with your catalog.
The message in your web push notification can be pretty much anything. For example, you can use these alerts to notify users about a new product release, limited stock availability, current discount campaigns, etc. If you use them right, these notifications can help you increase repeat traffic and, hopefully, convert it into additional sales.
Leverage the Power of Social Media
According to Statista, users spend an average of 151 minutes on social networks in 2023. The global social media population is also growing from year to year. These facts indicate that social networks are a powerful tool for businesses to connect with their prospects, build lasting relationships, and, of course, promote their products and services.
You can use this opportunity to make your sales catalog visible to more users. First of all, let your social media subscribers know that you have a flipbook and that they can find a full list of your products there. To do this, make relevant posts and include links to your flipbook in your publications, as well as in your bio sections.
Then, update the link regularly when you release a new catalog. Also, announce new releases in social media publications. These tricks should help you increase visibility even more.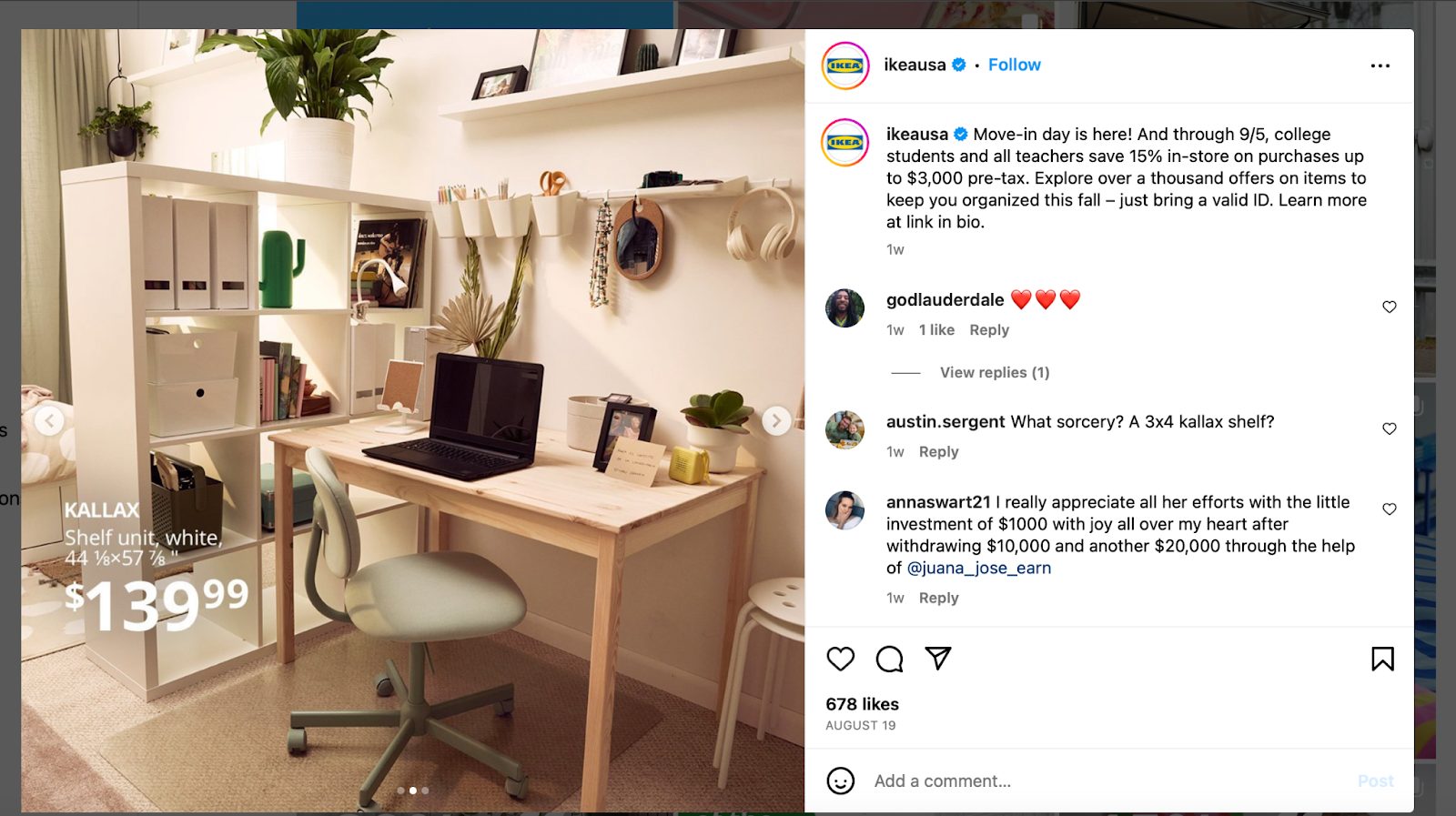 Source: Instagram
To make even more out of social media as a marketing tool, make sure that you include share buttons for different social platforms in your digital catalogs. By doing so, you will let existing customers become your brand advocates and share your flipbook with their families, friends, colleagues, and other people they know, thus spreading awareness about your brand and products.
Summary
These days, digital catalogs are still a big thing. They can help you demonstrate your products in a fun and engaging way, gauging your prospects' interest. However, even though creating a good-looking flipbook is easy (especially with the right digital catalog maker tool), making the most sales out of it can seem rather hard. But not anymore!
After reading this guide, you have an actionable plan for creating and promoting an online product flipbook that brings real results. From implementing SEO best practices and adding more interactivity to your flipbook to using email and social media for promotion purposes – all these tips should help you drive more sales. So don't hesitate to start using these tips now!